Father's Day Gifts for the Techie Dad
11 awesome gift ideas for the connected dad.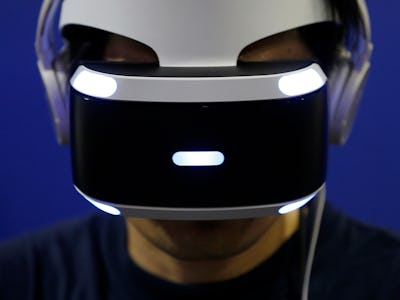 Getty Images / Yuya Shino
The world of parenting has changed for the tech-savvy father. Smartphones and the internet of things have broadened the scope of what a dad can do around the house, with his kids, or while on paternity leave. On internet forums, dads confer with one another or with online experts on how to parent best. And according to a Google study, millennial dads tend to be more involved in caregiving than previous generations, and are using technology to learn and develop parenting techniques.
So, then, what do you get the Smart Dad for Father's Day? Here (on the internet, duh) is how to truly impress the gadget guy in your life this Sunday.
11. The intelligent carryall.
Traveling with this suitcase is like equipping yourself with a superpower that conveys jet-setting, aesthetic sensibility — even if you're just going to Nana's for Thanksgiving. The Raden lives up to its name and features charge ports(!), a built-in scale to instantly self-weigh, and tracking capabilities so you never have to wonder where it is again.
Raden A50 Smart Suitecase, $595
10. Sometimes it's good to know the destination even if it's about the journey.
The days of Mapquest are behind us. And, heck, we may finally have hit a dead end with yelling at Siri to direct us. Enter the future of dash-top navigation from Navdy. This is next-level wayfinding for Dad the Navigator: turn-by-turn instructions, speed, incoming calls, and, of course, ETA.
Navdy, $500, but get $100 off through June 18 (AKA Father's Day)
9. An IoT upgrade for Dad's best friend.
Call it a handsome leather neckpiece for doggo that includes movement-tracking tech like a canine Fitbit. Now, dad can post maps, photos, and distance from their walks on an accompanying Strava-like app. With this collar, Rover gets one step closer to becoming Astro.
Link AKC Smart Dog Collar, $199
8. Catch will never be the same.
This looks like a regular football, sure, but inside the sensor-packed pigskin is actually a gyrometer and accelerometer that sync via Bluetooth to a smartphone. Time to turn the backyard into an NFL Combine.
Wilson X Smart Football, $150
7. Because fidget spinners are for kids, anyway.
So, maybe it can't make the Kessel Run in record time, but you can control this drone with force-like accuracy with just your hands. That's right, this palm-sized drone can be piloted by hand movements (as well as via smartphone) since it backs a gesture based system. If that wasn't enough, also included are a front mounted HD camera, obstacle avoidance, 16-minute flight time, and a top speed of 31 mph.
DJI Spark Drone, $499
6. Pics or it didn't happen.
The GNARBOX is a portable photo and video production tool that lets you instantly edit video and photo content easily and swiftly. Besides onboard wifi, USB, MicroSD, SD ports, included as well are battery ports to charge your other devices. Dustproof, shockproof, waterproof — it's perfect for the great outdoors. Also, no more awkward family photos.
GNARBOX, $299
5. It's time to start thinking about bringing the band back together.
With the Artiphon, dad becomes a multi-instrumentalist, switching seamlessly through more than 20 string tunings including electric guitars, banjos, and violins via the touch-sensitive interface, which mimics the real thing. Since it connects directly to your smartphone, computer, or tablet, players can port their tunes directly to Garage Band or similar programs.
The Artiphon Instrument 1, $399
4. When you're not the only one who knocks.
Fit this Bluetooth-enabled lock to your front door to grant or restrict access to whoever comes a-knocking. With this smart lock, entry is just a few swipes on the partner app to open the door. Plus, it's Siri-enabled if you'd like to repurpose this device to be your doorperson. There's more: you can give infrequent or one-time visitors, like the wifi guy, a preferred access code and the August has a built-in Doorbell Cam to see if Joe actually brought his famous 5-layer dip this time.
August Smart Lock, $229
3. Now, you can say, "Let there be light" and make it happen.
At the touch of an app, switch these bulbs on and off, or, to set the mood, change their hue to one of 16 million colors. Both future-focused and practical, the Lifx are LEDs and will screw into any standard fixture. Turn the household into a light show, or, at least, control the lighting from the comfort of the couch.
Lifx Color 1000 Bulbs, $160 for 4 bulbs
2. Be the music man of the streaming age.
The updating of analog devices to the latest technological improvements is the story of the modern classic. Somehow both sleek and vintage in appearance, this Tivoli model offers a multiplicity of functions. Dial into FM radio, or stream from Spotify or Tidal. Connect to your digital home library via Bluetooth. This compact speaker can likewise connect wirelessly to other sound systems for an even more robust sonic experience.
Tivoli Model ONE Digital, $300
1. See the future.
The tech-savvy dad is ahead of the curve, not behind it. With the VR revolution upon us, get dad into the game. The PlayStation VR is the most well-rounded (pun not intended) platform on the market and connects to a PS4 console to connect dad for an extremely immersive gaming experience.
PlayStation VR, $387