Chris Evans's Captain America is Sticking Around a Little Longer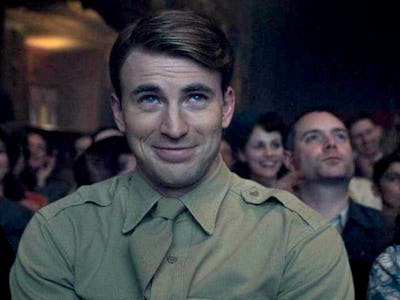 Marvel Entertainment
Steve Rogers's Captain America will be setting down his shield soon, but not as soon as many might have anticipated. Chris Evans, who's portrayed Steve in Marvel's Cinematic Universe for the past six years, has officially signed on for one more film, Avengers 4, before he departs for good.
Speaking to The Telegraph, Evans said: "I had six films in my Marvel contract, so I could have said after the third Avengers I was done, but they wanted to make the third and fourth Avengers films as a two-parter. They said they had so many other characters to fit in – Guardians of the Galaxy, Black Panther, Captain Marvel, Doctor Strange, Ant-Man – and couldn't get them all into one movie. [I agreed] because it made sense. It's going to wrap everything up."
The past six years of Evans's life have revolved around his role as Steve Rogers's Captain America in the MCU. From his first time as the titular captain in 2011's Captain America: The First Avenger, which introduced the world to the MCU's resident blue-eyed beefcake with a heart of gold, to 2016's Civil War, Evans has appeared in five MCU films (not including a cameo in 2013's Thor: The Dark World). Avengers: Infinity War was meant to be Evans's final run as Steve Rogers, as his original contract with Marvel was a six-movie deal.
Though Evans has expressed interest over the past six years in moving on from Cap and the Avengers team to focus on smaller projects and, even, directing gigs, it seems he's willing to be pulled back in one more time for the sake of storytelling.
Once Evans does depart the role, though, after the as-yet-untitled Avengers 4, there's some speculation as to what will happen with Captain America. In Marvel's comics, both Bucky Barnes and Sam Wilson (portrayed by Sebastian Stan and Anthony Mackie, respectively) have picked up the shield and assumed the Cap mantle. While many fans assume the role will belong to Stan's Bucky post-Avengers 4, as Stan has a whopping nine-film contract with Marvel, there's still a lot of narrative ground to be covered with his character. Bucky's Winter Soldier was last seen entering cryo-sleep in Wakanda under the watchful eye of King T'Challa's Black Panther (Chadwick Boseman).
If you're a bit confused, check out: "Explaining the Full Timeline of the Marvel Cinematic Universe."
Otherwise, Evans's second-to-final time out as Captain America, Avengers: Infinity War, premieres in theaters on May 4, 2018.