You Could Say Detroit's QLine Streetcar is Going Uphill
To get people interested, rides are free until July 1.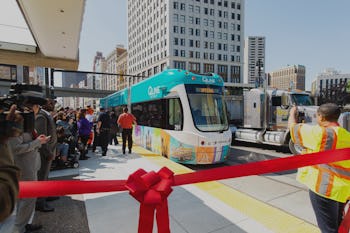 Facebook.com/QLineDetroit
Every form of transportation has its critics and its champions, but nothing gets to the feels faster than the streetcar. It's the most emotional, nostalgia-packed mode of city transportation. Just look at the latest street car project in Detroit.
The irony of a brand-new street car in the Motor City aside, Detroit's QLine — which started rolling on May 12 — has seen in its first month exactly half the ridership it needs to be profitable, spokesperson Dan Lijana tells Inverse this week. That's only about 2,500 daily riders. It's free until July 1 to get Detroiters interested.
The Detroit QLine has been hit with criticism for its $180 million price tag — a "boondoggle," opined The Atlantic's CityLab — but it received backing from private investors who made up the M-1 Rail consortium (it's called the QLine because Quicken Loans founder Dan Gilbert is an investor) — and got a $25 million federal grant from the Department of Transportation.
Just about every other streetcar project in the United States, from the one in Portland to the "BQX" in Brooklyn, has generated the same "why do we need this?" controversy.
In some cities, critics have been proven right, in others they were wrong, but nothing seems to be stopping streetcars from cropping up all over the country.
The "First and Last Mile" Argument
Jeff Boothe, executive director of the national Community Streetcar Coalition — formed in 2004 after the federal streetcar program was created on the back of bow-tied, Portland-based congressman Earl Blumenauer — tells Inverse this truth about street cars: People struggle to understand their benefits because they have too narrow a definition of mass transit.
Most people, Boothe says, think transportation services are about "peak travel, rush hour, point-to-point." But, Boothe argues, "streetcars are really about that first and last mile of transit." Instead of taking people from the outskirts of the city to its center, he says, they revolutionize how people get around once they're there. A streetcar helps people circulate, whether that's from their desk to their lunch spot or from one neighborhood to another.
The thing is, streetcar development is almost always underfunded — at least at the start. "The early projects, they didn't go far enough," Boothe says. A few miles here or there doesn't really change the transportation game and often leaves residents feeling bitter. That's especially true with lines like the one in Detroit, which move between tourist destinations like sports arenas and shopping malls.
The QLine has seen its fair share of snark, though:
But then, curiously, on the very same day, 11 minutes later:
Streetcars Have Baggage
Streetcars are also laden with symbolism in a way that cars, buses, and light rail aren't. Historically, a streetcar was a clear sign of a given city's success. Brooklyn even named its baseball team — the Dodgers — after the people who ran across their tracks, dodging the cars. So their return can feel more like an emotional decision rather than a practical one.
Boothe and his fellow streetcar evangelists hope that the streetcars will not only expand over time but also encourage the regional transit authorities to provide better and more comprehensive services to locals. The first step, however, will be doubling current ridership in cities like Detroit, where 2,5000 additional riders a day can keep the streetcar going.
The Northwest's Streetcar Renaissance
City planners seeking motivation look at how two progressive cities are embracing the historic mode of transportation: Portland, which saw its streetcar project launch in 2001, and in the last decade, Seattle.
More than 14,700 rides are taken on the Portland streetcar system each weekday, according to the agency's May 2017 statistics, good for more than 4.2 million rides so far this year.
In 2007, when Seattle's South Lake Union Streetcar was being constructed, it snaked through the well-trafficked commercial center of Westlake to, uh, nowhere in particular. South Lake Union at the time was overrun by foliage and, to the untrained eye, altogether empty of any business potential. But the city wanted to turn it into a new business hub.
"There was a lot of skepticism when the line opened," Andrew Glass Hastings, Seattle's director of transit and mobility, tells Inverse. "People kind of scratched their heads and said, 'Why did you build a streetcar here?'"
Then Amazon moved into the neighborhood, and today, the area is busy with foot traffic most days. Glass Hastings says that about 6,000 people ride the streetcar each day, between the South Lake Union and First Hill line, the city's other streetcar route.
"What started as a little bit of a side-show … has really turned into something," Glass Hastings says. "Now, when we talk about connecting the two streetcars, it just makes sense to people. I don't want to say [criticism] has gone away completely, but it's a very different environment today."
But Seattle, for the most part, got lucky. Amazon may be utilizing the streetcar now, but they didn't move to the neighborhood because it was there. What's more, unlike Detroit, where economic development has stagnated, Portland economic growth and Seattle economic growth continues.
Numbers are hard to track, but, culturally, many of the city's transplants are proactive about the environment, providing the money and the pressure to create good public transportation options. No other city could reasonably hope for so many stars to align.
Seattle is working to capitalize on its unprecedented early success: It hopes to connect the South Lake Union and First Hill streetcar lines by 2020. That would link up 12 of Seattle's neighborhoods and, Glass Hastings estimates, push streetcar ridership to 25,000 per day.
Back in Detroit, the streetcar project's future is still undecided, but hopes are high.
"We expect to reach our ridership figures of 5,000 daily rides," Lijana told Crain's Detroit last month.