What's Up with NYC's Streetcar Plans?
Can New York City's mayor muster his inner Robert Moses?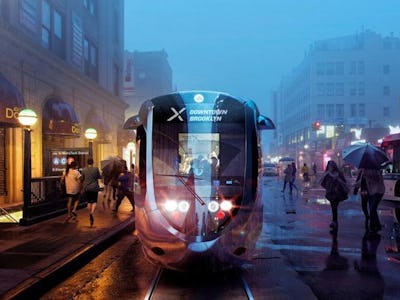 Friends of the Brooklyn Queens Connector
America's largest city may soon get a futuristic spin on an old-school transportation model: The streetcar.
During his annual State of the City address tonight, New York City Mayor Bill de Blasio will announce his proposal for a new streetcar system that would connect Brooklyn and Queens and reduce traffic that's overwhelming current transit options for the city.
What We Know
It's called the Brooklyn Queens Connector, or BQX: a 16-mile above-ground rail that clings to the East River waterfront (map below) and stretches through newly growing neighborhoods like Sunset Park, DUMBO in Brooklyn, and Astoria in Queens. A new city lane would be designed specifically for the BQX to avoid conflict with automobiles and cyclists. The cost to ride the streetcar would be the same as a single ride on the subway. Officials who helped draft the proposal say the BQX would help cut a commuter's typical weekday trip by an average of 18 minutes.
It seems novel, but as New York transportation guru Samuel Schwartz told Inverse recently, streetcars are the future of city — a cheaper solution than subways that can still put a sizable dent into traffic problems.
Why It's Needed
Here's a picture of what it's like for New Yorkers who need to travel up and down the city's eastern boroughs every day: The subway is extremely inconvenient. Nearly every non-shuttle subway line goes, at some point, into Manhattan — meaning often times the best way to travel from a southern neighborhood to a northern one is go into Manhattan and take an eastbound back out. Then you do the opposite when you need to go home. It's an incredible pain in the ass and also takes a toll on one's tolerance for inefficient travel methods.
There is one subway line that stays east and avoids going into Manhattan: The G, which has its own collection of horror stories. If you're not driving or biking, the only other option is to take a bus. The bus lines in NYC are actually quite good if you're not traveling during rush hour. Unfortunately, you probably work for a living, and in that case, a rush-hour bus is basically a few degrees shy of hell itself.
When Will They Build It?
The streetcar project would come with a hefty $2.5 billion price tag. Seems like a lot, but that's still less than the cost to build a new subway line. Though some residents are skeptical of exactly how good the BQX will be, the proposal fits in with the mayor's push to reduce car traffic, make streets more pedestrian and biker friendly, and significantly slash carbon emissions in the future.
Of course, the big question: when will we actually see the BQX become real? Right now, de Blasio is proposing to start construction in 2019, and begin service in 2024. That's already quite a bit of time, and if the 80-plus years it's taken to build the 2nd Avenue subway is any indication, we shouldn't really hold our breath that the city will meet those deadlines.
But populations in Brooklyn and Queens are both expanding rapidly. More and more businesses are moving to both boroughs, which means New Yorkers will need more public transit options that avoid Manhattan and make the eastern part of the city more connected.
When it comes to transportation, de Blasio is living in the shadows of former mayor Michael Bloomberg; but the BQX could be a pivotal step towards the distant goal of making New York City carless.