'Need for Speed Payback' Is an Online 'Fast & Furious' Game
Make Dominic Toretto proud. For Family.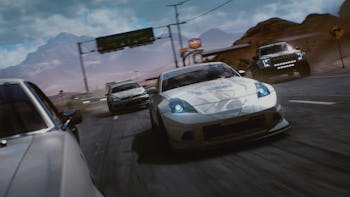 If you've ever wished you could experience Fast & Furious in video game form, then you're in luck, because Need for Speed Payback aims to deliver just that. If the official gameplay trailer released at E3 2017 as part of EA Play is any indication, then players will be able to drive beautiful, uber-fast cars and then smash them to pieces — just like Dominic Toretto would.
Explosions. Crashes. Blinding speed. People jumping from one moving vehicle to another. It's all there. The only thing missing is you — and maybe The Rock.
The game will feature a crew of three playable characters that work together on missions, each with their own special abilities in an online experience. It's entirely focused on "action driving" in sequences that look straight out of an action movie. Different car classes also make the driving experience more varied.
Need for Speed Payback will allow players to go on heists and smash cars with slo-mo, much like Burnout once did — and it will also feature an offline single-player mode.
Check out the first official gameplay trailer right here, and try to remember that this isn't Fast & Furious even when it looks just like the blockbuster franchise:
Need for Speed Payback will be released November 10, 2017.