Apple CEO Tim Cook Has a Theory About Trump's Twitter Account
"I can tell college students are behind it"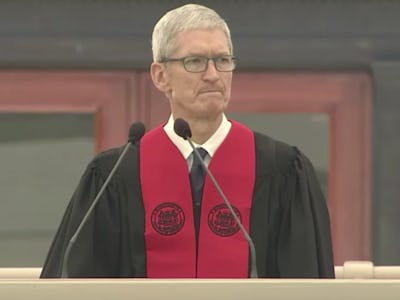 YouTube
Giving the commencement address to the MIT class of 2017 on Friday, Apple CEO Tim Cook acknowledged the long history of pranks — known as hacks at MIT, of course — at the Cambridge, Massachusetts school.
Cook mentioned some of the "pretty great ones" from previous years, including sending the Mars rover to the Kresge Oval and when they put a propellor beanie on the school's Great Dome, or how they have, most recently, "taken over the president's Twitter account."
"I can tell college students are behind it because most of the tweets happen at 3 a.m.," Cook said in the opening of his half-hour speech.
As graduation jokes go, it landed somewhere short of Matt Damon wondering if this is all a simulation and beyond Hillary Clinton's advice to "don't fear the trolls."
Cook attended and gradated from Auburn University with a degree in industrial engineering and then an MBA from Duke.
He told the graduates that he went to graduate school, looking for the answer to questions about his purpose in life. He was lost, he said.
"In a moment of indiscretion," Cook said, pausing, before saying, "I might have even experimented … with a Windows PC."
Cook said that twenty years ago, his search for purpose brought him to Apple, when Steve Jobs had just launched its famous "Think Different" campaign.
"Before that moment, I had never met a leader with such passion or uncounted a company with such a clear and compelling purpose to serve humanity" Cook said of Jobs and Apple.
Reading from a teleprompter, Cook asserted that solutions to various problems, "from cancer to climate change to educational inequality" will be brought forth with the help of technology.
Cook said that technology can also be a contributor to the world's problems, bringing up his meeting with Pope Francis in 2016: "[The Pope] expressed a shared concern in a powerful new way, never has humanity had such power over itself, yet nothing ensures that it will be used wisely."
Cook brought up "fake news," of course, saying that social media turns people anti-social. "Technology is capable of doing great things but it doesn't want to do great things, it doesn't want anything. That part takes all of us."
He also touched on AI, saying, "I'm not worried about artificial intelligence giving computers the ability to think like humans, I'm more concerned about people thinking like computers, without values or compassion, without concern for consequences."
Cook also retouched on a "liberal arts" theme that was the center of the Apple Worldwide Developer Conference this week in San Jose, California. "We are focused on human rights and diversity, (and are) advocating for it around the world and increasing it in our own community," Cook told investors at the annual meeting.
The homepage of the WWDC event site features an unattributed Jobs quote front-and-center, which Cook paraphrased on Friday.
"As Steve once said, technology is not enough, it is technology married with the liberal arts, married with the humanities that makes our hearts sing."
Near the end, Cook warned that the internet can become a dark place, too, as evidenced during the past election:
"Don't listen to trolls and for god's sake, don't become one," he said, latter adding, "stay focused on what really matters."