Why Apple CEO Tim Cook's WWDC Speech Will be Different This Year
The company has undertaken a new effort.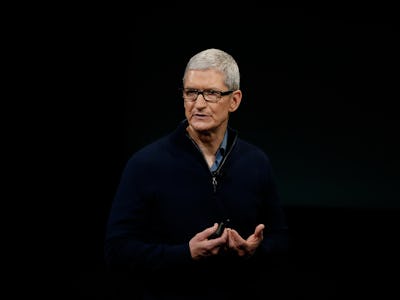 Getty Images / Stephen Lam
Tim Cook is set to tackle one of the biggest challenges in his career. In the face of criticism about the company's failure to increase diversity, the Apple CEO has taken steps to increase the focus on bringing a wide variety of viewpoints to the table. At the keynote speech of the Worldwide Developers' Conference on Monday, where a number of employees will take to the stage to explain the company's forthcoming software updates, it should be clear whether he has succeeded or if there are still steps to take.
In May, Apple made Denise Young Smith vice president for Inclusion and Diversity. Young Smith used to be global head of human resources, and in this role she oversaw director-level position entitled "head of diversity and inclusion," held by Jeffrey Siminoff. In the restructuring, inclusion and diversity became a focal point for the company, as Young Smith now reports directly to Tim Cook about the company's efforts.
Apple has come under fire before for its failure to include a diversity of viewpoints in its keynote speeches. Last September, Mic called Apple out for its failure to continue its public support for diversity in the iPhone 7 launch. During the keynote, women spoke for just eight minutes, and many of the people of color on stage weren't Apple representatives. As part of its response, the public relations team noted "a Canadian and a British woman" appeared on stage, a response that drew criticism from the press.
This failure has been noticed by investors. At the February shareholder meeting, members were asked to vote on a proposal to increase diversity in the executive team. A 2016 filing with the Equal Employment Opportunity Commission found that just three out of 107 company executives are black and two are Latino.
"Shareholders are concerned that low levels of diversity at the company's senior management and board level, as well as painstakingly slow improvements, are a business risk," the proposal, seen by USA Today, reads. Ultimately, 95 percent of shareholders voted against the proposal.
"We are focused on human rights and diversity, (and are) advocating for it around the world and increasing it in our own community," Cook told investors at the annual meeting.
It should be clear on Monday whether Cook's efforts to turn around this perception of Apple have been successful, or whether the company needs to do more to bring in a wider number of voices.