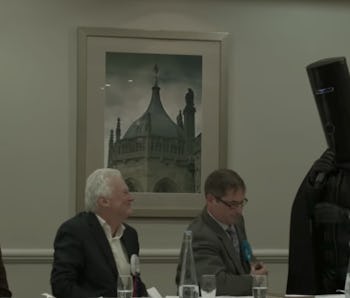 Culture
'Planet-Conquering' Lord Buckethead Got 249 Votes In UK Election
Lord Buckethead
It was an election like no other, in more ways than one. The landslide predicted for Britain's Conservative Party on Thursday, led by Theresa May, failed to materialize. In the early hours of the morning, the prime minister appeared at the count for her Maidenhead seat, flanked by a wild array of candidates set for their five minutes of fame as May's speech was broadcast to the nation.
One of these candidates, Lord Buckethead, described himself on his Twitter page as an "intergalactic space lord, running to be an independent member of parliament for Maidenhead." His hobbies include planet-conquering, dominating inferior species, and Lovejoy.
Although the name suggests otherwise, Lord Buckethead is not a member of the House of Lords, but like his name suggests, he has a bucket on his head. In his manifesto, he promises to nationalize Adele, reintroduce information service Ceefax, and hand out free bikes to everyone.
As the results were read out, it became clear that May had secured re-election, with a vote count of 37,718 and a 64.76 percent share of the vote. Howling Laud Hope, a man with a rosette that took up half his suit, got 119 votes, while Bobby Smith from the Give Me Back Elmo party (dressed as a giant Elmo) got three votes. Lord Buckethead, meanwhile, scored a respectable 249 votes, and did a victory dance:
The United Kingdom has a long tradition of joke or satirical candidates standing in high-profile seats. Al Murray, a comedian famous for his "pub landlord" persona, stood against the beer-swilling UKIP leader Nigel Farage in the 2015 election. The Monster Raving Looney Party, founded by Screaming Lord Sutch, is one of the more organized efforts in this area.
Lord Buckethead himself stood against prime ministers Margaret Thatcher and John Major in 1987 and 1992 respectively. These efforts were less successful than Thursday's - against Thatcher, he received 131 votes, and in 1992 he scored just 107 votes. Lord Sutch actually stood against Buckethead in that 1992 election, taking 728 votes.
Sometimes these candidacies are intended to make a point about the political system. Buckethead's campaign literature played on Theresa May's motto of "strong and stable leadership":
Lord Buckethead went one further, producing his own party political broadcast:
Unfortunately, these joke candidacies can be kinda tough, as Lord Buckethead found out when he got stuck in Maidenhead:
It might sound like Lord Buckethead received a lot of votes, but it wasn't enough to stop him from losing his deposit. Candidates in British general elections put down a deposit of £500 ($647) in order to participate in the election. Those that receive less than five percent of the vote lose their deposit, a rule intended to discourage less serious candidates from taking part. Lord Buckethead received just 0.4 percent of the vote.
Where next for Lord Buckethead? He's stretching his legs for now:
Elections aren't easy.