Mark Hamill and John Boyega Are "Joking" That Luke Is Finn's Dad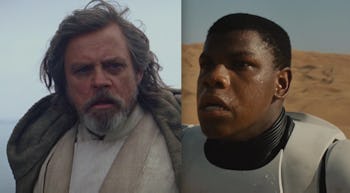 Walt Disney
If there's one thing Mark Hamill loves, it's making jokes about Luke Skywalker fathering other Star Wars characters; he got a huge kick out of calling Daisy Ridley (Rey) and John Boyega (Finn) his kids during April's Star Wars Celebration. Now his teasing has escalated, because he's found a partner in crime: Boyega himself.
On Wednesday, Boyega tweeted out an enigmatic message about how it's time for him to play a villainous character. He later clarified that he wasn't referring to Star Wars, but not before fans had eagerly pounced on the comment and treated it like a huge spoiler. Within minutes, users were referring to him as "Sith Finn" and "Darth FN-2187."
Hamill, apparently, couldn't resist the opportunity for more tantalizing farce, so he tweeted a "hint" that there's more to Finn and Luke's relationship than audiences currently know.
And then Boyega proved himself the ultimate accomplice to Hamill's weird sense of humor, calling him "dad."
Of course, Star Wars enthusiasts are dying to know more about Luke's activities between Episode VI: Return of the Jedi and Episode VII: The Force Awakens — he could have been getting it on with someone — and they're also madly curious about the parentage of new characters like Finn and Rey. So when Hamill teases fans on this subject, they're liable to get pretty animated. Who said you need the Force to mess with people's minds?
We'll have to wait until Episode VIII: The Last Jedi comes out on December 15 to learn actual, credible information about the families of Finn and Rey.