Watch a Nickelodeon Animator Draw Anime Characters in His Style
What would Goku or One-Punch Man look like on Nickelodeon?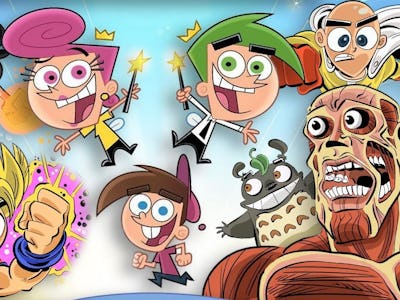 Somehow it isn't odd at all to see the likes of Goku or Naruto drawn in a style similar to that of The Fairly Oddparents, and that's exactly what animator Butch Hartman has delivered.
In a recent video he posted to YouTube, Hartman draws famous anime characters in his characteristic style, which is fun and simple, with large eyes and zany-shaped mouths. Despite being a stark contrast to the slightly more realistic aesthetics and proportions utilized by most anime, Hartman makes it work, especially by pairing each character with their most likely ally from the The Fairly Oddparents universe.
The Fairly Oddparents, Hartman's best-known work, is an animated series that aired on Nickelodeon. It chronicles the misadventures of a young boy who's granted a peculiar pair of fairy godparents that cause more problems than they solve with their magic.
In the video, Hartman draws Saitama from One-Punch Man, Goku from Dragonball Z, Totoro from My Neighbor Totoro, the Major from Ghost in the Shell, Naruto from Naruto, Monkey D. Luffy from One Piece, the Colossal Titan from Attack on Titan, Speed from Speed Racer, and Cory from Cory in the House.
Watch the video right here:
Butch Hartman promises to draw more anime characters or comics heroes from the DC or Marvel universes in future videos.