'Spider-Man: Homecoming' Actor Didn't Understand American Schools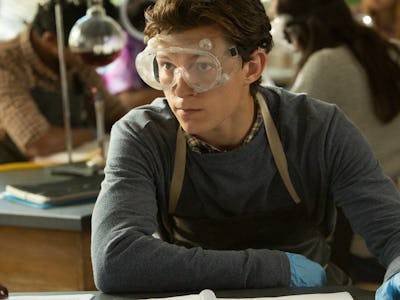 'Spider-Man: Homecoming'
Peter Parker might be a brilliant scientist and a powerful, web-crawling superhero on the side, but Tom Holland, the latest actor to don Spider-Man's tights, had little understanding of science or American high schools going into Spider-Man: Homecoming. You know, the movie in which he plays a student in a science-focused Brooklyn high school.
In a recent interview on Jimmy Kimmel Live! with co-star Robert Downey Jr., Holland revealed his understandable ignorance, which was mainly due to him growing up in the United Kingdom. He said that halfway through shooting Spider-Man: Homecoming, he finally asked, "By the way, what's Homecoming?"
Over in the UK, students don't even have homecoming dances, or anything of the sort. Instead, they just have a prom, during which the students can drink because the legal drinking age is 18.
Holland refers to his ignorance as "the most daunting part" of assuming the role. When he sarcastically suggested to Marvel that he go undercover in a real high school, he actually wound up in the Bronx High School of Science assuming a fake identity. While there, he quickly revealed his secret identity to a pretty girl in class, and she hilariously reacted with disbelief.
Better to learn one lesson early, Peter: Keep your secret identity a secret.
Watch Tom Holland and Robert Downey Jr. on Jimmy Kimmel Live! right here:
Following the events of Captain America: Civil War, in which Peter donned a new Spider-Man suit made by Tony Stark, he had to resume his everyday life as a friendly neighborhood Spider-Man while returning to high school. In Homecoming, Tom Holland reprises the role for the character's first standalone adventure, struggling against the villainous Vulture and assimilation into high school culture.
Spider-Man: Homecoming swings into theaters July 7.