Everything We Know About Apple's Siri-Infused Speaker
It could to debut next week.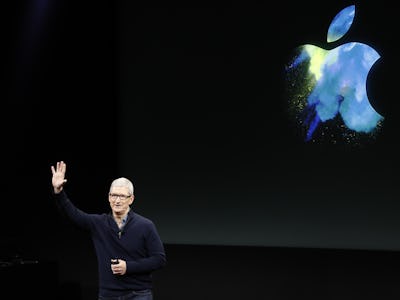 Getty Images / Stephen Lam
Since last fall, the world has been awaiting more details behind Apple's new Siri-infused speaker, a new device which basically unleashes the A.I. assistant on smart home systems and further intertwines those devices and applications to the Apple ecosystem. Finally, it looks like Apple is ready to debut the speaker very soon.
According to Bloomberg, the company has started manufacturing the product and could announce it as soon as next week during its annual developer conference, with it hitting the market later this year.
The speaker is essentially Apple's contender into the smart home market, pitting it against the Amazon Echo and Google Home.
Where it stands out, per Bloomberg and famed analyst Ming-Chi Kuo, is in superior audio quality — something apparently tapping into Apple's Beat's expertise. The speaker will also reportedly be built by the same Taiwanese manufacturers that built Apple's popular AirPods.
Apple's speaker will inevitably tap into HomeKit, Apple's so-far-underwhelming smart home hub. It will also be powered by Siri and tie together services like Apple Music and pretty much everything you can do on an iPhone.
Apple's own workers have reportedly been testing prototypes for several months, so by the time normal people get their hands on it, it should be pretty well ready to respond to commands of the bat.
If it does debut next week, it will be big. Apple hasn't introduced a totally new hardware category since the Apple Watch in 2015.