Why Renewables Have Finally Defeated Oil
It's all in for the battery revolution.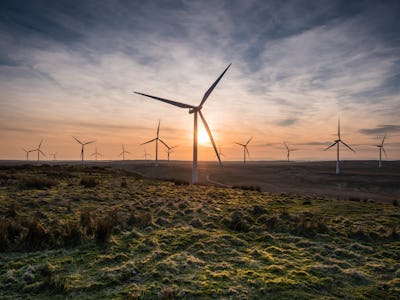 Flickr / Ian D
Make way for the era of renewable energy. As Tesla announces new solar panels, Mercedes-Benz gets into solar batteries and Exxon starts looking into algae power, it's becoming clear that renewable energy is the way of the future.
Around the world, fossil fuel powered industries are turning towards developing renewable power instead of trying to squeeze the last drops of power from fossil fuels reports The Financial Times. The change revolves around one key thing: batteries. As countries and industries have slowly invested in renewable energy technology, the drop in cost and increase in energy storage has made the renewable energy future possible.
"The issue with existing batteries is that they suck," said Elon Musk back in 2015. "We have to come up with a solution. That's the mission piece. That's the thing that's needed to have a proper transition to a sustainable energy world."
The main problem with renewable energy is that it isn't available all the time, and so we have to create storage systems in order to meet our energy needs, which means batteries. Lucky for us, thanks to a lot of slow, painstaking research lithium-ion battery costs have been steadily dropping over the last 20 years and slowly growing in storage and efficiency. In the last year battery capacity has doubled, reports FT.
Around the same time electric cars started to become cool, thanks to Tesla and Musk. With the boom of electric cars, batteries have become even more efficient. And while maybe Tesla shouldn't get all the credit, since Musk's electric cars started to boom, the cost of lithium-ion batteries has dropped in half since 2014. And costs are expected to hit under $100/kWh within the next decade, cutting costs in half again based on a 2016 report.
While this was happening, renewable energy technology has slowly been getting better, thanks to programs around the world. In 2011, China over-made solar panels, which dropped the cost of solar energy around the world. Suddenly countries start to build large scale solar fields, taking advantage of the low costs, and also investing in other kinds of renewable energy. This drove companies like Tesla to expand from the now-valuable electric car business into energy storage, which was a new market for advanced battery technology.
When Musk complained about batteries in 2015, he then debuted the Powerwall battery during that speech. The battery has now become a cornerstone to Telsa's solar roof offering, which was launched to the public on May 10. Other companies, like Mercedes-Benz have followed suit on May 18, and partnering with solar companies to sell batteries for personal storage.
Solar alone has grown to become an industry that employs 260,000 people in the US and is poised to triple in the next five years. And on April 30th, Germany was able to produce 85 percent of its energy renewably.
Right now renewable energy makes up about 24 percent of the world's power, which is a slow number to change. But while the world hasn't caught up to renewable energies, companies that rely on energy production are swiftly changing course to stay afloat. In a speech at Oxford in March, the CEO of Shell, said, "If any institution wishes to survive… it must be willing to move on as the world moves on around it. Of course, the energy transition is change on a global scale, and it must be embraced too. It is unstoppable."