8 Amazing 'Wonder Woman' Books to Prep for the Movie
Get ready for the movie with these epic Wonder Woman collections.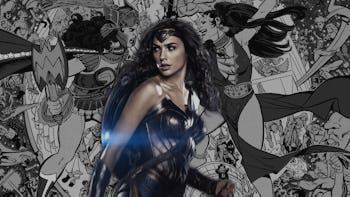 Warner Bros.
For Themyscira! At last, Wonder Woman has hit the big screen in her own solo film directed by Patty Jenkins. Filling out those Amazonian boots is Israeli model and actress Gal Gadot (Fast & Furious), reprising her role from last year's Batman v Superman: Dawn of Justice. But long before Batman and Superman had mommy issues to sort out, Wonder Woman came to life in DC's comic books. Created by William Moulton Marston and Harry G. Peter, Wonder Woman has enjoyed more than 70 years in the popular consciousness as a symbol of equality and social justice.
Diana Prince has had many epic adventures, either by herself or as part of the Justice League. With Wonder Woman set to dominate the weekend box office, here are TK great Wonder Woman comic book collections to pick up to enjoy more of the world's iconic feminist superhero.
1. Wonder Woman Vol. 1: The Lies and Vol. 2: Year One by Greg Rucka
There's no better time like the present, and the current Wonder Woman series from Greg Rucka is a must-have. DC successfully pulled off a soft reboot last year in 2016's "Rebirth" initiative, and Rucka — one of the best writers to ever pen the Amazon's adventures — took on the reigns to reintroduce Wonder Woman for a new era. Vol. 1 is available now on trade paperback. Also available now is Vol. 2, which retells Diana's first year on Earth.
2. Wonder Woman Vol. 1 and Vol. 2 by Greg Rucka
A decade before his return for DC Rebirth, Rucka brought Wonder Woman to the mid-aughts with artist J.G. Jones (Final Crisis) and pitted the Amazon against an array of enemies, including Silver Swan, Medusa, and Dr. Psycho. The new collected volumes, released last summer, include the out-of-print Wonder Woman: The Hiketia, Rucka's first arc in which Wonder Woman is honor-bound to protect a fugitive and wrestles with Batman over the meaning of justice.
3. Wonder Woman by George Pérez
In 1986, DC Comics hit the reset button with Crisis on Infinite Earths, setting up a clean slate for all of its characters and continuities. Pérez took on Wonder Woman in an acclaimed run that was meant to only last six months but wound up lasting five years of epic stories that followed a complex Wonder Woman. Pérez went deep into Wonder Woman's Greek heritage, with epic arcs such as "War of the Gods," "Challenge of the Gods," and "Gods and Mortals." It was exactly the kind of imagining Wonder Woman of the '80s needed, and much of Pérez's influence can be seen in Jenkins's new movie. When it comes to Wonder Woman, it begins and ends with Pérez.
4. Wonder Woman: Earth One by Grant Morrison
Unlike weekly comics, original graphic novels from the Big Two are extremely accessible to wider audiences in that they enlist top talent and give them free reign over popular characters. DC's Earth One graphic novel series, which began in 2010 with Superman: Earth One, retells the origins and earliest incarnations of the world's most popular superheroes, and in 2016 Grant Morrison was given reign over Wonder Woman. In a neat 144 pages, Morrison brings sexuality to Themyscira and to Wonder Woman, indulging in the bondage imagery that William Moulton Marston originally envisioned for his creation.
Far more accessible than any weekly comic for new readers, Wonder Woman: Earth One is a must-read for those who want a steamy introduction to the character.
5. Justice League: The New Frontier by Darwyn Cooke
Although not exclusively about Wonder Woman, Darwyn Cooke's acclaimed 2005 graphic novel brings the DC Universe to the mid-20th century when heroes are needed more than ever. Set in the 1950s, a conflicted time full of hope and optimism but also segregation and Cold War suspicion, Cooke's unique vision of the classic superheroes is both timeless and modern. As film critics claim that Jenkins's Wonder Woman brings hope to the DC Extended Universe, pick up Justice League: The New Frontier to see what that looks like in comics.
6. Wonder Woman: The Circle by Gail Simone
In the late 2000s, writer Gail Simone began her run on Wonder Woman, and it started with a bang. "The Circle," a four-issue arc worthy of its own release, reconciles with Wonder Woman as a hero, and her weird new job as a federal agent overseeing metahuman affairs. With stunning art from Terry Dodson, Simone's Wonder Woman books are more than worth checking out, and it all begins in "The Circle," when Wonder Woman is defeated by a new villain, ominously named Genocide.
7. Wonder Woman: The True Amazon by Jill Thompson
Another original graphic novel, Eisner-winner Jill Thompson's uniquely experimental Wonder Woman: The True Amazon adopts a storybook-like format to explore Wonder Woman's very early years growing up and training on Themyscira. With Jenkins's Wonder Woman spending quite a bit of time in Diana's homeland, The True Amazon brings a fantasy sensibility to the hero's epic mythology.
8. The Secret History of Wonder Woman by Jill Lepore
OK, so this isn't a comic. But no one can afford to miss Jill Lepore — a Harvard historian and writer for The New Yorker — and her exhaustive history of the iconic superhero and the personal lives of her creators that have been immortalized within the character. A nexus of 20th-century feminism and geek culture, with private letters and documents from Marston's family, The Secret History of Wonder Woman mustn't be a secret any longer.
Wonder Woman hits theaters on June 2.