Odette Annable Cast as Reign, 'Supergirl' Season 3's Main Villain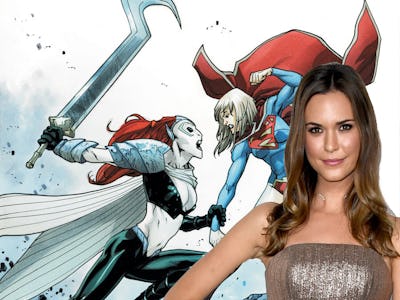 DC Comics/Warner Bros. Television
Supergirl may have bested the Daxamites in the second season finale, but Rhea and her ilk aren't the only deadly relics of Krypton's past out to get the Girl of Steel. The CW announced on Wednesday that it has cast an actress to play the main villain for the upcoming Season 3, and she'll be playing a baddie from fairly recent comics history.
Deadline reports that House actress Odette Annable is headed to Supergirl to play Reign, and that Season 3 is going to be at least partially based on the 2012 "World Killer" comic storyline that helped kick off Supergirl's New 52 reboot.
Reign, a massive, white-skinned warrior was one of five "Worldkillers" that Supergirl's Kryptonian father, Zor-El, created. The Worldkillers were essentially biological weapons, heavily modified creatures from various alien species. The Worldkillers, with Reign as their leader, survived Krypton's destruction, and eventually tracked down Zor-El's daughter and attempted to take over Earth.
The Arrowverse has been known to make liberal changes to the comics when it suits the show's purposes, so it's unclear how much of Reign's comic backstory will make it to the small screen. It's possible that Reign was the blood-feasting baby that some death-loving Kryptonians rocketed off to space during the closing moments of the Season 2 finale. Based on comments from the showrunners, Annable's portrayal of Reign is going to have some pathos.
"Greg (Berlanti) and I have wanted to work with Odette for years," series executive producer Andrew Kreisberg said in a statement to Deadline. "We are beyond excited to have her join our cast in the scary, powerful and heartbreaking role of Reign."