Lebanon Might Ban 'Wonder Woman' for Starring Israeli Gal Gadot
The Campaign to Boycott Supporters of Israel-Lebanon is looking to ban 'Wonder Woman' from theaters in Lebanon's capital.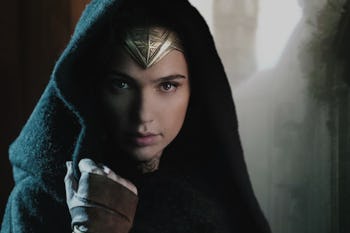 Update: Lebanon officially banned Wonder Woman less than two hours before the film was set to premiere. Additional details here.
An anti-Israeli group in Lebanon is calling for a nation-wide ban of DC's Wonder Woman because the star, Gal Gadot, is Israeli. At least one theater in Lebanon's capital city of Beirut is expected to premiere Wonder Woman on Wednesday, but a group called the Campaign to Boycott Supporters of Israel-Lebanon has been pressing for an all-out ban on the Israeli actor's performance, a result of the ongoing war between Lebanon and Israel, and a decades-old law banning Israeli products.
As reported by the Associated Press, "A ban would require a recommendation from a six-member committee from the Ministry of Economy, a process that has not yet begun, the official said, speaking on condition of anonymity because he was not authorized to talk to reporters." The security official who spoke with the AP confirmed that "a formal request for a ban has not yet been received."
While Wonder Woman is, overall, an American enterprise tied to U.S. companies DC Entertainment and Warner Bros., Gadot's role is seen as a problem by the boycott group.
Gadot served two years in the Israeli army upon reaching the age of 18, a mandatory service requirement for most Israeli citizens, working as a combat trainer. As per the AP, the group is moving to ban Wonder Woman from Lebanon cites that Gadot has posted to her Facebook page in the past, supporting "Israel's military during the 2014 Gaza-Israel war, sending prayers to soldiers 'who are risking their lives protecting my country against the horrific acts conducted by Hamas.'" And though Lebanon often totes wider freedoms than similar countries in the region, "prior censorship remains in place, particularly with content relating to Israel, religion, and homosexuality."
Even though the film was previously approved to premiere in Beirut, the Lebanese government can still intervene at the last minute. A 2010 study by Saghieh Nizar, Saghieh Rana, and Geagea Nayla (translated from Arabic to English by Mona Abu Rayyan), "Censorship in Lebanon: Law and Practice," states that in "extreme cases" of censorship by the Lebanese government, "General Security will actually revoke a permit that has already been issued" to a film.
Wonder Woman would not be the first American film banned in Lebanon, with 2006's The Da Vinci Code banned for "blasphemous content," joined by the Michael Fassbender-starring Shame (2011) and Liam Neeson's Schindler's List (1993). And controversies surrounding Jewish and Israeli-born actors in Lebanon isn't anything new, with billboards featuring both Natalie Portman's and Steven Spielberg's names causing issues and outcry in the past.
The same campaign looking to bar Wonder Woman also called out for a ban on 2016's Batman v. Superman: Dawn of Justice, which featured Gadot's first time out as Diana Prince. The film was still shown in Lebanese theaters despite the protest.
Wonder Woman premieres in U.S. theaters on June 2.