Twitter Rejoiced Over the Return of Bill Burr's 'F is for Family'
"I spent $700 on a TV so I could watch a family be happy."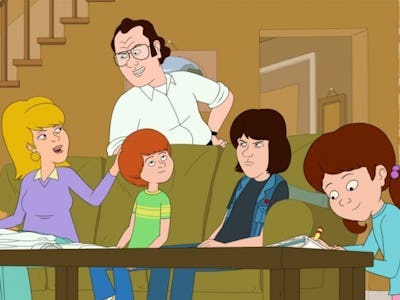 Netflix
The highly-anticipated second season of Netflix and Bill Burr's F is for Family premiered on Netflix on Tuesday, and the internet kind of lost its collective shit. Burr, the series' co-creator and a beloved comedian, writer, actor, and podcast aficionado, is back as short-tempered family man Frank Murphy alongside his TV wife Sue (Laura Dern) and their three kids.
Season 1 of F is for Family premiered in 2015 and followed the suburban misadventures of the Murphy family across six episodes. Frank, a Korean War veteran living with his family in suburban Pennsylvania during the mid-1970s, is often emotionally and verbally abusive to his three kids, as the Murphy family generally throws the idea of the perfect nuclear American family out the window with a manic kind of glee.
Premiering early Tuesday morning on Netflix, Season 2 of the cult comedy show consists of 10 episodes, and fans are already losing their minds over it.
People were excited.
And while reviewers so far are focusing on the second season being even bleaker than the first, taking the first season's parody of '70s American culture to a new level, fans are screaming on Twitter. Screaming out of joy, that is, while probably swearing up and down and threatening to throw people through walls. It's only appropriate, after all.
People were really excited.
People shirked responsibility and avoided sleep to watch it.
And people might still be putting Frank on too high a pedestal.
But, damn, people are excited.
Season 2 of F is for Family is now available to stream on Netflix.