Why You Haven't Seen Black Bolt on 'Agents of SHIELD'
It's a long way to the Moon.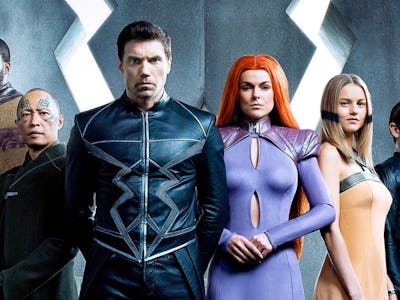 Marvel Entertainment
The TV corner of the Marvel Cinematic Universe is often as vivid and colorful as the films. But later this year, Marvel's Inhumans, which will premiere in theaters in IMAX before continuing on ABC, will blow the door wide open as the Inhuman Royal Family — led by the mute king Black Bolt (Anson Mount) — enters the MCU. But with four seasons of TV of its action-drama Agents of S.H.I.E.L.D. and the whole interwoven Netflix-verse anchored by The Defenders, is there room for Inhumans? Sure, and this being the MCU, of course they're narratively connected. But where has Black Bolt and the Inhuman Royal Family been all this time?
Short answer: Way off screen. In Marvel's Inhumans, which is overseen by showrunner Scott Buck (Marvel's Iron Fist) a coup against the Inhuman kingdom exiles the Royal Family from their home city of Atillan on the Moon down to Earth, taking shelter in Hawaii.
This easily explains why the royal, authoritative Inhumans haven't yet appeared on Marvel's Agents of S.H.I.E.L.D. But Black Bolt and his family aside, S.H.I.E.L.D. has not lacked in showing off Inhumans, such as Daisy (Chloe Bennet) as Quake, Lincoln Campbell (Luke Mitchell), and even Lash (Matthew Willig).
In the comics, Atillan is the nomadic home of the Inhumans that's called multiple places on Earth home: the Andes, the Himalayas, even off the New York shore on the Hudson River. But so far, none of the MCU — not even The Avengers or Guardians of the Galaxy (which takes place in the Andromeda galaxy) — have made their way to the Moon. So whether or not the Inhumans have already been and are now living on the Moon, or have yet to make their way over, it hasn't been possible for someone like Tony Stark to begin diplomatic relations with the alien/human hybrid species.
For those unfamiliar with the Inhumans, here's the gist: Millions of years ago, the Kree combined their DNA with humans, creating a new race of beings called Inhumans. They're — mostly like humans, except each Inhuman has an ability that responds to an evolutionary need. Inhumans are sort of like alien analogs to mutants, which isn't lost on Marvel; in 2016, Marvel staged the seven-issue crossover series Inhumans vs. X-Men, which helped reset Marvel's publishing line of X-Men comic books.
Marvel's Inhumans will premiere September 22 in IMAX theaters.