The Bitcoin Crash May Have Just Begun
Now might be a good time to sell those investment bitcoins.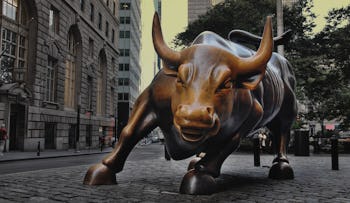 Flickr / Arch_Sam
On Thursday, the price of a single bitcoin briefly neared the $2,800 mark, before sharply declining. At its worst, the currency lost over $400, but eventually regained some of that lost value over the day. As of this writing, the price of bitcoin sits at $2501.47.
Now might be a good time to look into selling those investment bitcoins.
The volatility looks very much like the recent predictions of Nicola Duke, an analyst with Forex Analytix who used a technique called "Fibonacci retracement" to figure out what past trends in bitcoin's value say about its near future. Her finding was that unless the market is about to behave in a way totally contrary to its history, the $2,800 mark should be around where bitcoin starts another in a series of long, slow declines.
According to Duke, bitcoin's value could fall as far as $1,470, a "correction" of 46.5 percent. Having been notably right on the peak point, at least for today, it's worrying that she has such dire predictions for tomorrow.
"We will see the bottom in the start of January, that is when stock markets typically tend to have a correction as well," Duke told CNBC.
In Duke's view, bitcoin's value moves in waves — peaks in bitcoin price are followed by "corrections," or declines. Though the currency should still settle to a higher stable value than it had going in, that's small comfort to people who could have sold at the all-time high.
Duke is far from the only one predicting a crash. Writing in MarketWatch Wednesday, the Wall Street Journal's Matthew Lynn writes that "no one really needs to spend time debating whether it's a bubble or not. It is just obvious."
The sobering day for bitcoin investors comes on the heels of a series of record values for the world's premiere cryptocurrency, the frequency of which has provoked an enormous amount of optimism in the bitcoin community.
Thursday's price fluctuations probably won't put too much of a dent in that optimism, all on their own, but all eyes will be on the price of bitcoin tomorrow, to see whether the downward trend continues.