Watch a Building Demolition Go Unexpectedly Wrong 
See if you can spot all the violations.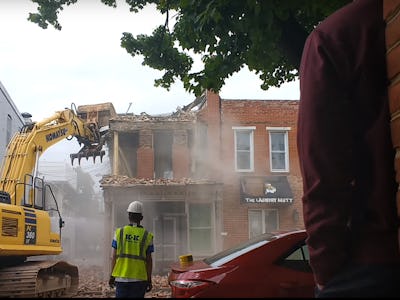 YouTube
An emergency demolition crew in Baltimore was sent out to the Riverside neighborhood of the city to tear down a dilapidated building after it was diagnosed as unstable by city officials. A video of their efforts emerged on YouTube on Sunday, and things didn't quite go according to plan.
The building was a source of complaints from locals, who cited a large crack and a bowing exterior wall, and neighbors gathered around to watch the demolition crew and their excavator get to work. Everything seemed to be going fine, when, suddenly, a nudge from the excavator's plow sent a loose, third-story wall tumbling over onto the adjacent row house.
The falling wall completely flattened the second floor of the adjoining structure and also did significant damage to the poor Laundry Mutt at ground level. You can hear onlookers' reactions in the video as they realize what's happening.
"Oh, shit," says one man, followed quickly by an "oh, fuck" from the woman beside him. "That wasn't the plan," says the woman. No kidding.
The Baltimore Sun reports that city officials were forced to condemn the affected building and that the city would be investigating the incident.
Demolition experts will tell you that it looks like there were a few obvious mistakes made by the on-site crew:
The tallest object on a building — that free-standing, third-story wall in this case — should be removed, by hand if necessary, before proceeding further.
Federal NESHAP (National Emission Standards for Hazardous Air Pollutants) also require that no fugitive dust can escape from the lot of the demolition site, which was happening both before and after the accident.
And one more for good measure: The lax safety conditions on the scene could be a violation of OSHA (Occupational Safety and Health Administration) guidelines.
The ease with which the adjacent building collapsed in is also fair cause to wonder about the sturdiness of its construction in the first place.
Thankfully, nobody in the accidentally demolished building, or anywhere else, was hurt. "Precautions are always taken with adjacent properties, in this case ensuring that it was unoccupied," Tania Baker, a Housing Department spokeswoman, told The Sun.
Joseph Rene, the owner of the building that was accidentally knocked over, said that he and other neighbors hadn't been given prior notice that the demolition had been scheduled. City officials claimed that that was because of the emergency nature of the situation.
Rene actually watched the scene unfold from the sidewalk where the video was captured. In the aftermath of the unexpected building carnage, he said, "We'll rebuild it."