Tom Holland Will Lead 'Uncharted' Nathan Drake Origin Story Movie
The 'Spider-Man' actor will star in the movie adaptation of the popular video game series.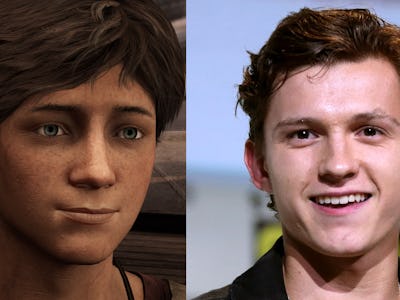 Tom Holland, the current actor playing Peter Parker and his alter-ego, Spider-Man, will also fill the boots of the young Nathan Drake, the treasure hunter from the Uncharted series, in a live-action prequel film coming from Sony Pictures. It's a prequel movie for a game series that's already pretty cinematic.
Deadline reports that the film, directed by Shawn Levy, takes place at the same time as a flashback featured in the PlayStation 4 game Uncharted 3: Drake's Deception. In the film, young Nathan Drake, as played by Holland, will encounter his eventual partner, Victor "Sully" Sullivan, for the very first time.
The popular PlayStation exclusive game series from developer Naughty Dog details the adventures of the roguish but charming treasure hunter and thief, Nathan Drake, who has supposedly descended from the famous English explorer Sir Francis Drake. That's why, at the age of 14, Nathan Drake broke into a museum in Cartagena, Colombia, to steal a ring previously owned by his ancestor.
Here's part of the flashback in question:
This is notably the latest turn for long, gestating attempts at bringing Uncharted to the realm of live-action movies.
No release date or official title has been announced for the Uncharted movie starring Tom Holland yet.