'Stupid Watergate': John Oliver Takes on "Insane" Week in Politics
"Where everyone involved is stupid and bad at everything."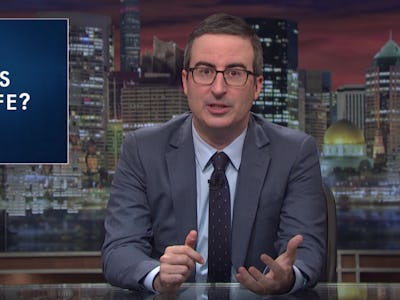 Youtube
On a particularly vicious episode of Last Week Tonight Sunday, John Oliver decided it was time to give viewers a history lesson. The news has gotten so insane, according to Oliver, that he felt he had a responsibility to do a recap of the last week in what he called, "Stupid Watergate."
"A scandal with all the potential of Watergate, but where everyone involved is stupid and bad at everything," he said.
If you were looking for the perfect primer on last week's political news, this was it.
"Can you even remember how this week began?" Oliver said, referring to the unceasingly bizarre revelations that seemed to keep on coming over the past seven days.
The Last Week Tonight host did a run-down on each one, including:
Tuesday's news of former FBI director James Comey's February memo detailing how President Donald Trump wanted to shut down the investigation into Michael Flynn.
On Wednesday, the Justice Department appointed former FBI director Robert S. Mueller to a special council tasked with overseeing the investigation into ties between President Trump's campaign and Russian officials.
On Friday, the wheels of Air Force One had barely left the ground to the Middle East when the news broke that Trump had told Russian officials in the Oval Office that James Comey was a "nut job," claiming he'd been facing a lot of pressure "because of Russia."
And that was just a few of the more jaw-dropping developments coming out of the White House.
It's getting so bad, Oliver said, that even Fox News is starting to worry, showing a clip of an on-air commentator changing his tune on Trump from overwhelming support to worry and concern.
"A Fox host not being able to hold his doubts at bay for 48 hours is pretty much a canary in a coal mine, but at this point, Donald Trump is basically waist deep in dead canaries," Oliver said.
At this point, Oliver just pummeled the audience with bad news. There's the potential outcome that Trump will be impeached, he said, but then you have two menacingly hardline conservatives next in line: Vice President Mike Pence and after him Paul Ryan. And even though everyone is betting on it, impeachment odds are more than slim, because the Republican-controlled Congress votes to impeach the president, and then it takes two thirds of the Republican-controlled Senate to convict him.
Yes, unfortunately Oliver thinks this is just another run of scandals, gaffs, and snafus that can be added to Trump's already lengthy resume. "It seems like when it comes to President Trump, he's always approaching the end of the line, but it never seems to come.
"No matter what, we are in for an agonizingly long period of leaks, allegations, and recriminations." At least Oliver will be here to remind you that this is not normal.
You can watch the full segment below.