Report: White House Prepares for Trump Impeachment Attempts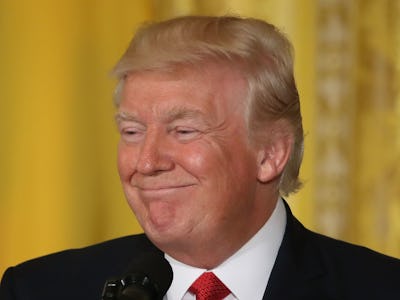 Getty Images / Mark Wilson
White House lawyers have started researching impeachment procedures in case they are forced to fend off attempts to remove President Donald Trump from office, according to a CNN report published Friday.
Two people briefed on White House legal discussions told CNN that officials still believe the president has enough allies in Congress to avoid an impeachment. Still, "lawyers in the White House counsel's office have consulted experts in impeachment during the past week and have begun collecting information on how such proceedings would work," CNN reports.
Contrary to CNN's sources, a White House official also stated late Friday that "it's not true" that lawyers are in fact researching impeachment procedures.
The possible reasons for a Trump impeachment have been pontificated on since he stepped into the presidency. A slew of potential conflicts of interest involving the president's many business ventures raised early red flags that an impeachment could be tenable.
Most recently, the fact that he disclosed classified information to Russian diplomats has sowed serious doubts about the longevity of his job title.
In fact, an Irish betting house called Paddy Power has been offering wagering odds on Trump's impeachment. Following the dismissal of FBI director James Comey — which many perceived as a red herring attempt to divert attention away from Trump's complacency in Russian meddling — Paddy Power odds on Trump's impeachment in 2017 sit at a staggering 70 percent chance.
The House of Representatives has the right to impeach a president, but it's a big process:
If charges are brought against the president, the House has to vote on the charges in order to begin the impeachment process.
The Senate then reviews the charges and the president's defense and votes on whether to impeach.
Two-thirds of the Senate need to vote for a conviction in order for the president to be removed from office.
With a Republican House, an impeachment coming to fruition feels difficult, if not unlikely. But if CNN's report is legit, it might be time to start considering the possibility — maybe White House staff are too.