12 Times North Korea has Launched Missiles in the Last Year
12 months of military aggression.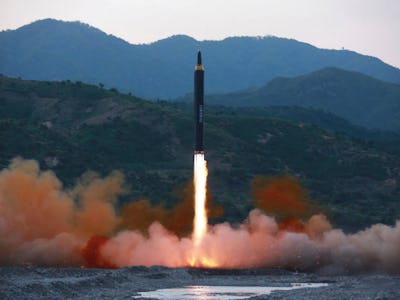 Korean Central News Agency
On Sunday morning, North Korea conducted yet another another ballistic missile launch. The Washington Post reports that according to U.S. Pacific Command and South Korea's joint chiefs of staff, the latest launch occurred at a site in Pukchang, north of Pyongyang, at 4:29 p.m. local time. According to the report, the intermediate-range ballistic missiles flew about 310 miles, landing in the sea between Japan and the Korean Peninsula.
North Korea has garnered considerable condemnation from the international community as it continues to try and develop a ballistic missile that would have the capability to reach the U.S. mainland. Defying a U.N. resolution that bans North Korea from participating in any ballistic missile-related activities, leader Kim Jong-un has made a point of accelerating the country's weapons program. This is the twelfth time North Korea has launched missiles in the past twelve months. Here they are, in chronological order:
June 21, 2016: Two tests of intermediate-range ballistic missiles (IRBMs) are launched. Reuters reports that the second missile reached an altitude of 620 miles. "We don't know whether it counts as a success, but North Korea has shown some capability with IRBMs," Japanese Defense Minister Gen Nakatani told reporters in Tokyo.
July 18, 2016: South Korea reports that North Korea has fired three ballistic missiles off its east coast into the sea, each with around a 350-mile range.
August 3, 2016: North Korea launches two missiles from South Hwanghae province, one of which lands in Japan's economic exclusion zone. The New York Times reports it was the closest a North Korean missile has come to Japan since 1998.
August 24, 2016: A missile with a 310-mile range is launched from a North Korean submarine.
September 5, 2016: As G20 members are meeting in China, three ballistic missiles are launched from a region south of the capital of Pyongyang. One enters Japan's air defense zone.
Feb. 12, 2017: An intermediate-range Pukguksong-2 ballistic missile is fired into nearby North Korean seas just as President Donald Trump is hosting Japanese Prime Minister Shinzo Abe on an official visit. "We see this as part of an attempt by the North to grab attention by demonstrating its nuclear and missile capabilities and to counter the new United States administration's strong policy line against North Korea," the South Korean military said in a statement attained by the New York Times.
March 6, 2017: North Korea fires four ballistic missiles, three of which fall into Japan's exclusive economic zone; as close as 190 miles from Japan's coast.
March 22, 2017: A missile launched in the country's east coast reportedly explodes immediately after its launch, according to U.S. and South Korean officials.
April 5, 2017: An extended-range Scud missile is fired off the east coast of North Korea as tensions between the Trump administration and North Korea continue to simmer ahead of the first meeting between President Trump and Chinese President Xi Jinping.
April 16, 2017: An unidentified ballistic missile explodes almost immediately after launching in Sinpo, a port city in eastern North Korea.
May 14, 2017: North Korea fires a ballistic missile 435 miles from the northwestern city of Kusong into the sea, between the Korean Peninsula and Japan.
May 21, 2017: A medium-range missile is fired 310 miles, landing in the sea between Japan and the Korean Peninsula.
According to the Washington Post, analysts have said there are several key technologies that North Korea needs to master before it can deliver a nuclear-tipped missile to a target like the U.S. However, each test does indicate North Korea's interest in doing so, whether they've achieved the technology yet or not.