Watch the 'SNL' White House Sing One More "Hallelujah"
The whole gang's here to say goodbye.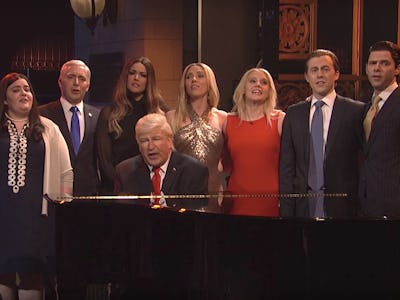 It was a poignant swan song that opened the season finale of Saturday Night Live on May 21.
Reprising an infamous moment from what many have been calling SNL's comeback season, the show started with a piano rendition of Leonard Cohen's "Hallelujah."
This time it wasn't Kate McKinnon's defeated Hillary Clinton on the keys, but a glib President Donald Trump, played of course by Alec Baldwin. Alone on stage, he seemed to have a little extra pluck when he sang the opening lyric: "Well I heard there was a secret chord, that David played and it pleased the Lord."
Secrets have been at the forefront of America's political consciousness over the last year, and SNL has been determined to parody just about every new revelation that's leaked its way out of the current administration. It's been good for ratings, but the grimness of the current political climate seemed to be acknowledged from the stage Saturday night. Or maybe it was just Steve Bannon.
As the Donald played on, members of the SNL cast, dressed as their token White House characters, made their way to the stage to join in song. Almost everyone was there: Kate McKinnon's Kellyanne Conway, Beck Bennett's Mike Pence, and even a cameo from Scarlett Johansson as Ivanka Trump.
At the end of the song, Baldwin gives a perfectly paradoxical Trumpism: "I'm not giving up, because I didn't do anything wrong … but I can't speak for these people."
Watch the entire performance below.