Kate McKinnon Performed Leonard Cohen's 'Hallelujah' as Hillary Clinton on 'SNL'
This was the performance we needed.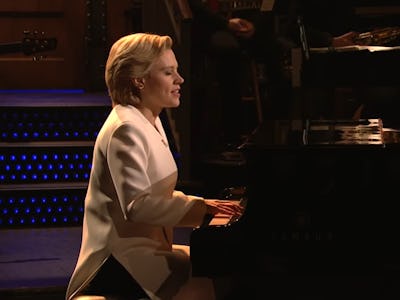 SNL
This week's cold open on Saturday Night Live may have been lacking in jokes, but it was just what we needed after Tuesday's election. Returning as Hillary Clinton, McKinnon sang a heartfelt rendition of Leonard Cohen's iconic song "Hallelujah" that was nothing short of amazing.
McKinnon was wearing a cream pantsuit while playing her version of Secretary Clinton. To address the unexpected outcome of this week's election, McKinnon didn't try to make us laugh, but instead sat at a piano and sang an elegant version of Cohen's most famous song to a quiet audience.
Her somber performance not only represented what half the nation is feeling right now, but also was a moving tribute to Cohen, who passed away earlier this week.
Missing from the episode was Alec Balwin's portrayal of Donald Trump. Perhaps Baldwin and the show's writers felt it was too soon.
At the end, McKinnon was visibily emotional when she turned to the camera and said, "I'm not giving up, and neither should you."
Her performance struck a nerve on Twitter, providing many viewers with the closure they needed following a tumultuous week. 
McKinnon also made an appearance on the "Weekend Update" segment as Supreme Court Justice Ruth Bader Ginsburg, saying she was never going to retire now that Trump was president as she downed a bag of powered vitamin mix.