Why It's No Surprise Melania Trump Didn't Wear a Headscarf
Despite her husband's 2015 tweet.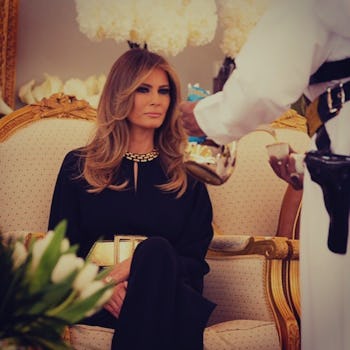 Twitter
Donald Trump was thinking about Michelle Obama on a Thursday morning in January, 2015, when he criticized the first lady while she was on a trip with then President Barack Obama in Saudi Arabia. Trump took to Twitter, posting this barb:
"Many people are saying it was wonderful that Mrs. Obama refused to wear a scarf in Saudi Arabia, but they were insulted.We have enuf enemies," Trump tweeted at 11:40 a.m. on January 29 of that year.
Enuf is enuf, Trump thought!
So it might have been surprising to see live images on Saturday morning showing current first lady Melania Trump with her husband, now the president, meeting with the Saudi Arabia's King Salman and family. Melania wasn't wearing a headscarf, which quickly got the attention of anybody who remembered Trump's salty diss of two years ago. (The headscarf hypocrisy was even big enough to make it to the third paragraph of the Times' official visit story.)
But we shouldn't be surprised Melania wasn't wearing a headscarf, despite her husband's tweets. Since taking office, his defenders have re-branded his weather vane thinking — sometimes lauded on during the campaign — into something of an Unpredictability Strategy, which Foreign Policy calls "crazy."
When you look at recent history, not wearing a headscarf has become a subtle show of diplomatic independence this century. Women who didn't wear a headscarf while visiting leaders in Saudi Arabia include: German Chancellor Angela Merkel, then Secretary of State Hillary Clinton, then first lady Laura Bush (she wore one in '07 and then did not in '08), or then Secretary of State Condoleezza Rice.
Meanwhile, Trump's daughter, Ivanka, was reportedly a trending topic in Saudi Arabia. She didn't wear a headscarf either.
"These kinds of stories pop up every time a woman in a high position chooses not to wear the head scarf in Saudi Arabia. It's really not news here. I can only shake my head when the western journalists go ga-ga over the head scarf," Saudi journalist Sabria Jahwar told HuffPost after Merkel's visit a few weeks ago. "At the end of the day it's a piece of clothing with a cultural and religious significance to us. We don't expect the rest of the world to follow in our footsteps when they come to Saudi Arabia."