Read New Plot Summaries for 'Black Panther' and 'Infinity War'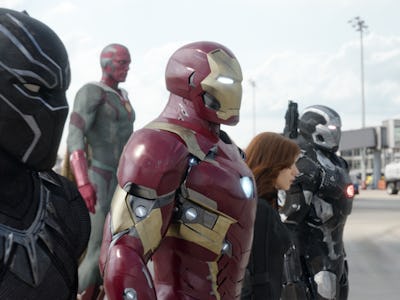 Marvel Entertainment
Marvel's endgame is upon us. In the late winter and spring of 2018, Marvel Studios will release Black Panther and Avengers: Infinity War, the film that the entire MCU has been building to, up to this point. The studio released new plot synopses for both Black Panther and Infinity War, confirming a lot of what fans have already guessed about both movies.
In the plot synopsis for Black Panther, directed by Ryan Coogler, Prince T'Challa (Chadwick Boseman) assumes kingship over the reclusive African nation Wakanda following the death of his father in last year's Captain America: Civil War. But, rebel factions who oppose T'Challa threaten to bring Wakanda into a world war. The film, based on the synopsis, sounds a lot like some of the best Black Panther comics in history, from Don McGregor in the '60s to the current, ongoing Black Panther from The Atlantic correspondent Ta-Nehisi Coates.
Meanwhile, the synopsis for Avengers: Infinity War, from directors Joe and Anthony Russo say everything fans have already guessed, and Marvel's hinted at for the last few years. In short, it's the The Infinity Gauntlet, without specific mention of Death and (of course) the presence of Guardians of the Galaxy Vol. 2 post-credits Easter egg Adam Warlock.
Check out the synopses for Black Panther and Avengers: Infinity War below.
First, Black Panther (from Screen Rant):
"After the events of Marvel's Captain America: Civil War, King T'Challa returns home to the reclusive, technologically advanced African nation of Wakanda to serve as his country's new leader. However, T'Challa soon finds that he is challenged for the throne from factions within his own country. When two foes conspire to destroy Wakanda, the hero known as Black Panther must team up with CIA agent Everett K. Ross, and members of the Dora Milaje, Wakanadan special forces, to prevent Wakanda from being dragged into a world war."
And now, for Avengers: Infinity War:
"As the Avengers and their allies have continued to protect the world from threats too large for any one hero to handle, a new danger has emerged from the cosmic shadows: Thanos. A despot of intergalactic infamy, his goal is to collect all six Infinity Stones, artifacts of unimaginable power, and use them to inflict his twisted will on all of reality. Everything the Avengers have fought for has led up to this moment - the fate of Earth and existence itself has never been more uncertain."
Black Panther will be released in theaters on February 16, and Avengers: Infinity War will be released on May 4, in 2018.