'Infinity War' Cast Tricked You to Avoid Spoiling 'Guardians 2'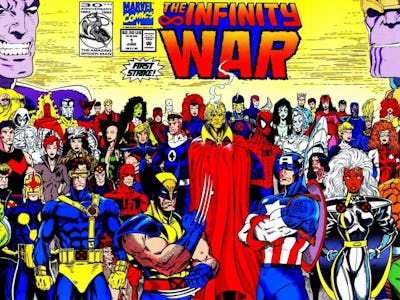 Marvel Comics
It turns out Marvel is sneakier than a lot of fans will give it credit for. Marvel tricked fans into believing nothing too bad would happen in Guardians of the Galaxy Vol. 2 through set photos of Avengers: Infinity War. But something bad happened. And now everyone is sad.
This post contains huge, sad spoilers for Guardians of the Galaxy Vol. 2.
Even though you might have seen Michael Rooker's Yondu on the set of Infinity War, he will not be palling around with Peter Quill and getting into arguments with that yuppie playboy Tony Stark. He is, tragically, dead, and no amount of insistence from fans that you saw him in set photos is going to change that. Marvel tricked you. Marvel tricked all of us.
Vol. 2 director James Gunn took to Twitter on Thursday to answer some fan questions, and when someone asked if Yondu would be miraculously alive by the time Infinity War rolled around, he squashed the dreams of Mary Poppins lovers everywhere.
Apparently, Rooker was on set with the rest of the cast "because word was getting out he wasn't in the movie." Fans were guessing that a Yondu-less Guardians team in Infinity War meant something tragic was going to happen to Yondu in Vol. 2. Fans were right, but that didn't mean Marvel was going to let anything get spoiled.
Going down the rabbit hole for a moment: Is no one safe? Spider-Man: Homecoming, Thor: Ragnarok, and Black Panther are all set to premiere before Infinity War. Just because someone has been seen on the set of Infinity War doesn't mean they're going to be in the movie. But it's most likely that everyone will be fine (maybe).
Avengers: Infinity War premieres in theaters on May 4, 2018.