No, Personalized Juices Don't Give the Spurs an Edge
The secret to recovery drinks is still a basic recipe.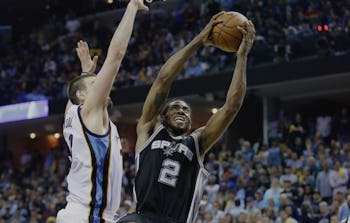 Getty Images / Andy Lyons
If you are looking closely, you might catch a glimpse of a player for the San Antonio Spurs sipping on a brightly colored fruit drink after a game. The cold-pressed drinks are personalized to each player, and the ingredients remain a secret even after an ESPN report on the recovery juices.
Despite the hype, there's little evidence that fruit juice does anything special for athletes. The benefits of the fruit concoction are likely just a basic recipe for what the body needs to recovery and that it's tasty enough that players want to drink them, Jose Antonio, sports nutrition scientist at Nova Southern University and CEO and co-founder of the International Society of Sports Nutrition tells Inverse.
"Whatever they're drinking, I would say as long as it's your basic sugar and protein — that's 90 percent of it. All the other stuff is kind of icing on the cake," says Antonio.
The key for a recovery drink is that it needs to rehydrate the body and provide both protein and carbohydrates, says Antonio. So although juice tends to get a bad rap for being so sugary, for a professional athlete trying to restore their body, juice is a decent vehicle for a recovery mix. Since basketball players work so hard, Antonio also guesses that some sort of protein is added to the juice to try and rebuild muscles that are worn down by game play.
As for any secret ingredient or formula, Antonio is skeptical. "I mean the reason they're not telling you what's in the shake is because there's nothing impressive in the shake," says Antonio. "You know, it's sort of like the Wizard of Oz when you finally see the wizard."
To be fair, Spurs star Kawai Leonard admits the same: "It's just juice," he told ESPN. Spurs coach Greg Popovich, too, appeared not overly impressed with the nutritional science of "electrolytes and blah, blah, blah, blah, blah."
Ultimately, what's more important than having fruit in the drink is whether or not a player will actually drink it. "It's really an issue of compliance and not an issue of what the drink is," says Antonio. "When you're talking about recovery for basketball — they play 80 something games a year, they're always traveling, when they travel they eat like shit." Getting your players to maintain a recovery strategy means building workout drinks that players enjoy. So a smoothie after the game may be just a little nudge to get athletes to actually drink their recovery drinks.