Chris Cornell's Rare Vocal Ability Invented a Death Star
The iconic grunge rocker could reach into a wide spectrum of octaves.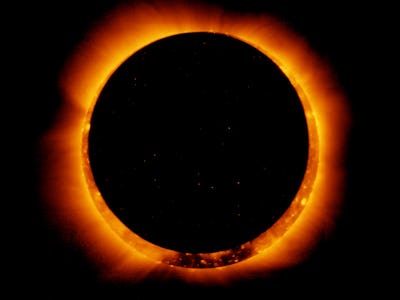 Flickr / NASA Goddard Photo and Video
A black-hole sun, is a cryptic, unknown terror, and Chris Cornell's rare and striking vocal range helped make it so.
Cornell was found dead at 52 on Wednesday night while on tour with his legendary band, Soundgarden. The band's grunge-pop hit, "Black Hole Sun," made the summer of 1994 weird, its lyrics rife with snakes and screams; dark, distorted guitars fall into a deranged, disassociated realm, before the band pulls it back from hell, and to something radio-appropriate. Then, of course, is the classic MTV music video, where a volatile red-blood cell-like sun terrorizes an already strange suburban American neighborhood, where suspicious wizards roam the streets, and a bikini-clad girl, baking in the sun, reveals a serpentine tongue.
But most of, it was Cornell's rare ability to reach a spectrum of vocal pitches that most humans cannot, that lent the song the extremes that made the black hole sun especially surreal – and unsettling. Few of us are endowed with the ability to sing in four different octaves, but Cornell regularly explored these extreme pitch dynamics, defining him as one of rock's premier modern vocalists.
Naturally, Cornell sang in a baritone, which is the second lowest pitch, but he had little issue jumping up to higher pitches, like the tenor – the vocal register populated by the likes of Bono, Michael Jackson, Paul McCartney, Robert Plant, and Iron Maiden's Bruce Dickinson.
Although Cornell's vocal ability was rare, he shared the gift with other prominent artists, like rockabilly and country legend Roy Orbison, who is most famous for his dynamic vocal flare in "Pretty Woman." Orbison and Cornell certainly played disparate forms of music, but like Cornell, Orbison infused an enigmatic darkness into this music – quite literally: The rockabilly rocker performed in all black, and wore dark shades.
Other well-known artists with Cornell and Orbison's ability include Beyoncé, Cyndi Lauper, and Christina Aguilera
But unlike Cornell, other modern four-octave artists have yet to use their far-ranging vocal pitches to invent a fire and ash spewing death star – a black hole sun.