Study Finds Beyonce and Taylor Swift Shill for Sugary, Nutrient-Poor Garbage Food
Music stars almost exclusively peddle unhealthy foods and drinks, according to a new study.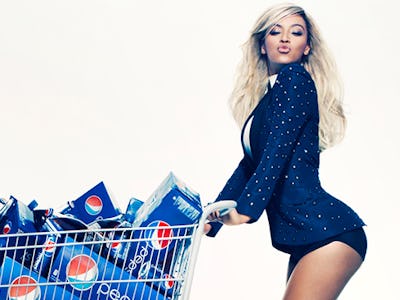 YouTube/Beyonc
Beyonce's #flawless physique might say one thing about eating well, but her multimillion-dollar Pepsi campaigns say the exact opposite: In a new study published today in the journal Pediatrics, Queen Bey, along with over 60 other high-profile musicians — are called out for almost unanimously endorsing unhealthy food and beverage products. And kids are eating all of it up.
Nicki Minaj and Katy Perry, also Pepsi ambassadors, Coca-Cola darling Taylor Swift, and McDonald's golden boy Justin Timberlake are, from the study's perspective, just as guilty of perpetuating childhood obesity as Ms. Knowles. In the study, the research team from NYU Langone Medical Center analyzed the nutritional value of the foods and beverages peddled by music stars between the years 2000 and 2014.
Out of the 65 high-profile pop stars studied — those who didn't make Billboard's Hot 100 or receive Teen Choice Award nominations weren't considered — they found that nearly all of them were associated with food and nonalcoholic drinks, a massive 81 percent of which were deemed "nutrient poor" according to the Nutrient Profile Model, a standard food industry metric.
That is, out of the 69 drinks endorsed by musicians, 71 percent were sugar-sweetened, and most of them were not of the diet variety (not that Taylor's kitten-conjuring Diet Coke ads are really any less harmful). None of the musicians endorsed anything remotely resembling a fruit, vegetable, or whole grain.
Overall, the proportion of ads centered on healthy products was slim. Water-related endorsements appeared three times — daps to 50 Cent for his (only vaguely healthier) Vitamin Water campaign — but represented only a worryingly tiny fraction of the beverages analyzed.
The single "healthy" natural food endorsed by a music celebrity? Pistachios. And though the authors didn't mention explicitly, we're pretty sure they're referring to Snoop Dogg's campaign for Wonderful Pistachios, "Get Crackin' With Snoop."
Which is, it should be said, great, just watch it. Watch:
Each year, the food and beverage industries spend $2 billion on ads targeted at American youth alone, the researchers point out. The YouTube video versions of the ads considered in the study garnered almost 313 million views, and the Institute of Medicine estimates that a single teen views some 5,900 ads each year. That's a lot of exposure to Tay, Bey, and the goods they hawk — which the NYU team asserts is linked to "excessive consumption."
But are the findings really that surprising? Considering how much big-time celebrities charge for their famous faces — 50 Cent received $100 million from Vitamin Water — it's pretty obvious why they aren't fronting ads for small-time American fruit and vegetable farmers.
If only more of them were like Snoop.