Volvo Will Focus on EVs Because 'People Are Lining Up' for Tesla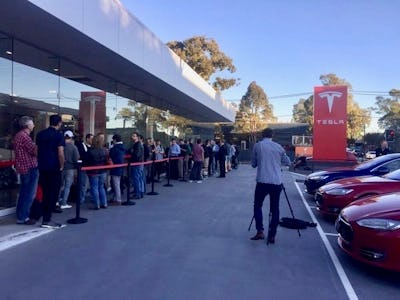 Twitter/Elon Musk
Volvo has been inspired by Tesla. The 90-year-old automaker juggernaut has shifted its plans, based on the strong response to an electric car company founded just 13 years ago. In an interview published Wednesday, Volvo CEO Hakan Samuelsson hinted that the company would stop developing diesel engines and shift its focus toward electric.
"We have to recognise that Tesla has managed to offer such a car for which people are lining up," Samuelsson told Frankfurter Allgemeine Zeitung (translated by Reuters). "In this area, there should also be space for us, with high quality and attractive design."
It's a culmination of years of work on Tesla's part. The company's first vehicle, the Roadster, was the world's first electric sports car when it launched in 2008 with an eye-watering price tag of $109,000. Gradually, Tesla has brought down prices on its vehicles while demonstrating that electric motors are a viable alternative to internal combustion engines. It's been a slow process, but Volvo has acknowledged the company's long-term aim has been a success.
While the company will continue to develop its current range of vehicles, improving diesel emissions standards and maintaining production of the 2013 range until 2023, it's clear that electric and hybrid technology will play a key role in Volvo's future.
The first all-electric Volvo, due in 2019, will reportedly challenge the Tesla Model 3 for entry-level market dominance. Priced at between $35,000 and $40,000, the car may use the Scalable Product Architecture, a modular chassis system currently used in the Volvo XC90, to keep costs down.
The car is said to target a range of 250 miles on a single charge. This would beat out the $35,000 Model 3, which will have a range of just 215 miles on the cheapest model. Tesla may hold an advantage in its network of superchargers though, with over 5,000 charging points around the world capable of providing 120 kilowatts of power to batteries, leading to much faster speeds than those found from an 11-kilowatt home charger.
As Tesla gears up to start Model 3 production in July, increasing total car production fivefold to reach a larger audience, it may grow to become the envy of big-name automakers around the world.