Watch the 2017 Google I/O Live YouTube Stream
The developer conference runs from Wednesday to Friday.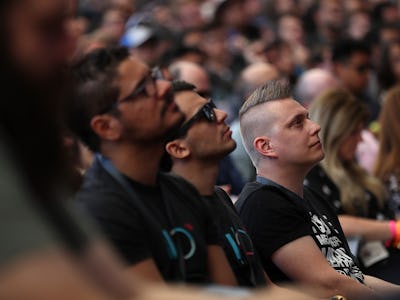 Getty Images / Justin Sullivan
The Google I/O developer conference began on Wednesday at the Shoreline Amphitheatre in Mountain View, California. It runs from Tuesday, May 17, to Friday, May 19. Conference events are being live-streamed, and you can watch them below.
The 2017 I/O schedule is packed with challenges, talks, and other news in the world of development. Each year the conference also features a climactic musical performance, which in previous years was only available to actual attendees. This year, however, Google is changing things up. Anyone will be able to live-stream the performance of Google I/O headliner LCD Soundsystem on Thursday.
The conference will be streamed across multiple YouTube channels because of the many events that are set to coincide with one another. Below are the live streams for three of the channels: 1, Amphitheatre, and 3, and all streams will be available for rewatching on the Google Developers YouTube channel.
Google I/O '17, Channel 1
Google I/O '17, Amphitheatre
Google I/O '17, Channel 3
Google's keynote address, delivered by company CEO Sundar Pichai, has already taken place, but you can watch that address in its entirety here.
View a full live-stream schedule here so you don't miss your most anticipated events.