How to Watch LCD Soundsystem's Google I/O Concert
The performance begins Thursday night at 9 p.m. Pacific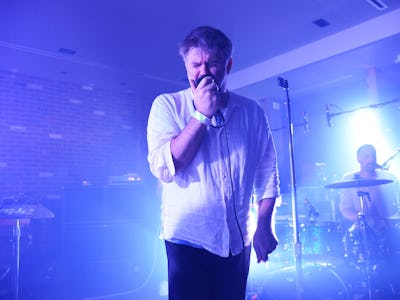 Getty Images / Nicholas Hunt
James Murphy's LCD Soundsystem will be taking the stage at Google's I/O developer conference on Thursday night, and their entire performance will be live-streamed for anyone to view.
The show begins at 9 p.m. Pacific time/midnight Eastern — good news for the night owls out in Murphy's home of New York. You can watch LCD Soundsystem's Google I/O live concert via the Youtube embed below.
LCD Soundsystem reunited at Coachella in 2016 after being on hiatus since 2011, and has since released two new singles: "call the police" and "american dream." Their set at Google I/O will include those as well as songs from across their catalog.
Google I/O is a developer conference held yearly by the company at the Shoreline Amphitheatre, Wednesday through Friday. There, Google hosts various contests, challenges, and talks designed to draw in and inspire people from across the development community.
LCD Soundsystem's performance will be the first ever musical performance to be live-streamed from the conference. Previously, such events were offered only to attendees.
Watch LCD Soundsystem perform "call the police" on Saturday Night Live.