Congress Looks to Bitcoin and Its Links to Terrorism
"The table is set for this threat to grow significantly."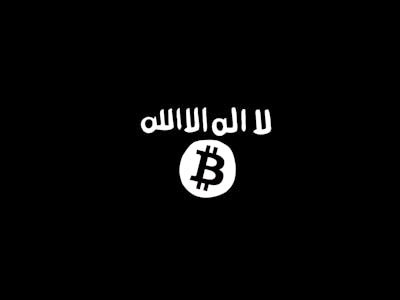 Bitcoin and other blockchain-based "cryptocurrencies" have been having something of a renaissance as of late. Bitcoin saw all-time high values this month, and benefited from friendly national policy changes in Japan.
Bitcoin's hot streak may end, however, as a new bill goes before a congressional committee on Thursday that examines how the digital currency is used by terrorists.
The House of Representatives is considering the "Homeland Security Assessment of Terrorists Use of Virtual Currencies Act," which calls for the government to conduct an investigation into whether virtual currencies like bitcoin could be more security trouble than they're worth.
Introduced by New York Democrat Kathleen Rice, the bill arrives in the wake of the "WannaCry" cyber attack, which held data ransom for bitcoin.
"Research suggests that terrorists' use of virtual currencies has been limited so far, but with groups like ISIS becoming more technologically sophisticated and virtual currencies becoming more accessible, the table is set for this threat to grow significantly in a very short time," Rice said in a statement on Wednesday. "We need to confront this threat immediately, and the first step is to fully assess and understand it."
Though the proposed law comes in the wake of the Wannacry ransomware attack, it has been in the works for months. It will enter the "markup" phase on Thursday, meaning representatives can suggest changes and additions to the wording of the bill.
The preliminary text calls for Congress to "develop and disseminate a threat assessment regarding the actual and potential threat posed by individuals using virtual currency to carry out activities in furtherance of an act of terrorism, including the provision of material support or resources to a foreign terrorist organization."
So, while it's not got a lot of teeth — Rice's bill doesn't call to outlaw the use of bitcoin or anything — it does suggest shining a light on the blockchain.
It's likely that congress will find at least some level of a link between terrorism and bitcoin. The 2015 terror attacks in Paris were at least partially funded through the movement of bitcoins, and in 2015 the director of the Treasury Department's Financial Crimes Enforcement Network said that it's believed that ISIS is at least trying to use bitcoin.
There's hope for those who want to pay for groceries in untraceable internet dollars, however. The Rockefeller-funded Center for a New American Security recently reported that even though terrorist use of virtual currencies presents a real threat, it's important to note that the "policy and regulatory posture should be oriented toward rewarding and incentivizing innovation." Which should be a welcome opinion for those who want to see bitcoin treated with a light touch.
The issue isn't technology vs. security, or even freedom vs. security, but large-scale economic gain vs. security.
Don't expect security to win without a fight.