Doug Liman Realizes a Dream Dashed by 'Mr. and Mrs. Smith' 
"Serious doesn't mean boring," says the director of 'Edge of Tomorrow' about his newest film, 'The Wall.'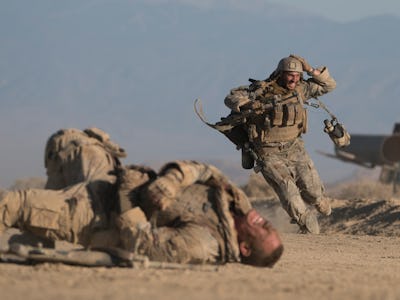 David James, Amazon Studios and Roadside Attractions
Over a decade ago, Doug Liman was working on the historic Brad Pitt-Angelina Jolie vehicle Mr. & Mrs. Smith, when he began clashing with the studio over the big finale. The studio wanted music to give the scene — a shootout in an IKEA — a lighter, more exciting tone for the expected broad audience. Liman wanted only the whirring and ringing of the bullets to be heard, to punctuate the warring lovers' tension. Producer David Matalon called in Liman to his office, to show who really had the power on the $120 million film. "We need to let middle America think the film is fun," Liman was told by Matalon during their long, exhaustive discussion, "because we need to make our money back." Finally, Liman was convinced.
"What David Matalon said to me was, 'Make a smaller movie if you want no music,'" Liman recalled in a recent conversation with Inverse. "Finally, I did. I went and made a smaller movie that has no music in it."
It took seven years, but Liman is talking in support of The Wall, a war thriller starring John Cena and Aaron Taylor-Johnson (Nocturnal Animals); it will be released by Amazon Studios on Friday. At a budget of just $3 million, Liman had the flexibility to do whatever he wanted. Set in the latter half of the Iraq War, Cena and Taylor-Johnson play American soldiers pinned down by an enemy sniper. With no food or water and their communication radios hacked, the two soldiers endure psychological torture by an unseen, unforgiving enemy.
The absence of music isn't the only part of the The Wall that has been a long time coming for Liman; the film is also the director's return to smaller pictures since his 1996 comedy Swingers. The last twenty years have seen him direct mostly blockbusters, including The Bourne Identity, Jumper, and Edge of Tomorrow, along with Mr. & Mrs. Smith.
But even with more creative control, The Wall wasn't without its challenges. The titular, physical wall behind which Taylor-Johnson's character takes refuge represented "a significant engineering problem" for the director and crew. "The wall started as Lego pieces in my office," the director explained. Along with production designer Jeff Mann, who also worked on Mr. & Mrs. Smith, the filmmakers built the wall with real rocks and bricks so it could crumble over the course of production. But it needed to not fall until the exact right moment, and it was crucial that it wouldn't buckle while Taylor-Johnson was underneath it. "There were a number of experiments that went into figuring out how to have the wall be secure, but also have things removed and design sections that were going to collapse."
The budget only afforded one wall, so collapsing the wall was "a one-way door," Liman says. "Once we collapsed that part of the wall, we can't go back. So we just had to keep moving forward, shooting the movie from beginning to end."
Still, production went relatively smooth, taking just a little under three weeks in the Mojave Desert outside Los Angeles. A month of prep preceded filming, with both stars attending sniping school. A Gold Star Wife, Jane Horton, mentored Johnson, along with Nick Irving, who earned the name "The Reaper" for his 30 kills during his first tour of duty. "He has one of the highest kill counts," Liman remarks. "He has photos of all of them on his phone. I have pictures of animals and loved ones. This is what they do for a living. They fight over there so we don't have to."
In 2008, Liman said in an interview with New York Magazine that he "kind of lost" his indie credibility after Mr. & Mrs. Smith. "I know I haven't lost it. I just have to go make an independent movie. I just have to do it. Just for me," he told the magazine. Liman followed Mr. & Mrs. Smith with two more commercial movies: 2008's Jumper and 2014's Edge of Tomorrow (also known as Live. Die. Repeat.), and a number of TV pilots in between. When I ask him how he feels about The Wall, Liman appears confident it's the movie he was looking for.
Although he didn't write the screenplay — it was written by Dwain Worrell, and was the first script Amazon purchased to kickstart its movie studio — Liman believes he's made something as exciting as The Bourne Identity, with more to think about. "I think The Wall fits into my version of serious. Serious doesn't mean boring," he says. "[To] other filmmakers, serious means, 'This is my boring movie or my Academy movie.' That's not serious for me. Where The Wall fits into the serious category is afterwards, when people talk about the issues the movie raises."
The movie finds Cena and Taylor-Johnson trapped by Juba, an Iraqi sniper who challenges the presence of American boots stomping around his country. Voiced by Laith Nakli (but played on set and off-camera by Liman himself, or the script supervisor, or whoever else was available that day), Liman believes Juba has "valid arguments for doing what he's doing. I believe in villains who are the heroes of their own movie. He's rational about what he's doing. That makes him more lethal."
Liman doesn't make any explicit statement about American foreign policy in The Wall, but he is interested in starting debates among audiences. "I'm not hammering you, but I think setting the movie and not running away from those issues makes for a more dramatic movie. I'm telling what I think is an exciting story, but I like telling it in the context of a more provocative world."
Liman will return to bigger productions soon; this September, his crime thriller American Made, with Tom Cruise, will hit theaters. He's got an adaptation of Dark Universe for Warner Bros. on the horizon, which he says will be a very "personal" film despite its ties to the DC Comics universe. But The Wall may just be the biggest for his own sense of ownership and creativity.