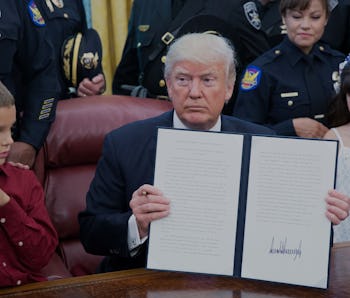 Innovation
Trump Told the Russians Classified Intel About an ISIS Threat
It was something about the recent electronics ban.  
Getty Images / Pool
During a meeting with the Russian foreign minister and ambassador last week, President Donald Trump revealed highly classified information related to a potential Islamic State (ISIS) threat to use laptop computers in terrorist attacks on aircraft.
Trump's monumental breach of security may have compromised a "U.S. intelligence partner," that was providing information to the government as part of a highly sensitive arrangement, according to several sources who spoke to the Washington Post, which exposed the incident in a report on Monday. The U.S. intelligence partner had not agreed to share information with Russia, but during his meeting with Russian officials, the Post reports that Trump "went off script" and started talking about an ISIS plan to use laptop computers in potential attacks on airliners, which may have been the impetus behind a recent ban on large electronics on many foreign flights to the U.S.
A source familiar with the incident told the Post that Trump told the Russians "code-word information," a term used for one of the highest levels of classification. Trump "revealed more information to the Russian ambassador than we have shared with our own allies," the source said.
What Did Trump Leak?
While the Washington Post notes that its story withheld more information than Trump did, reports of ISIS using laptop bombs aren't a new occurrence. The danger is if Trump's comments to the Russian parties revealed something about the sources and methods used in the intelligence gathering around ISIS's laptop-bomb efforts. Some of the most closely guarded secrets in intelligence work aren't what people know, it's how they know it. That's what made leaks like Edward Snowden's such a big deal — they burned the classified nature of how the U.S. was intelligence gathering. Trump's administration, however, says that that did not happen. 
"The president and the foreign minister reviewed common threats from terrorist organizations to include threats to aviation," H.R. McMaster, the national security adviser, who participated in the meeting told the Post. "At no time were any intelligence sources or methods discussed, and no military operations were disclosed that were not already known publicly."
According to the story, the key detail Trump revealed was the city in ISIS-controlled territory where the "U.S. intelligence partner" reported the new threat, essentially blowing the cover on the fact that the U.S. had a source in that location, a fraught region where the U.S. and Russia have conflicting interests. Trump also "described how the Islamic State was pursuing elements of a specific plot and how much harm such an attack could cause under varying circumstances," the Post wrote.