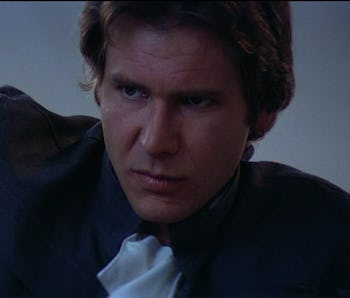 Entertainment
Young Han Solo Haircut, Jacket, and Speeder Seemingly Revealed
For fans who were worried that Han Solo might not look like Han Solo in the next Star Wars standalone movie, it's time to breath easy. Alden Ehrenreich's haircut and new costume have seemingly been revealed and he looks totally classic.
On May 11 and May 13, leaked concept art and a snap from Woody Harrelson's instagram account both seemed to give glimpses as to Han's "look" in the upcoming 2018 movie. Here's what it all means.
In The Force Awakens, General Leia (Carrie Fisher) dismissively told Han Solo (Harrison Ford) that we was wearing the "same jacket," a diss which he protested as being untrue. Though Han Solo is mostly famous for his vest from the original Star Wars film, he wore a full, dark navy jacket with sleeves in The Empire Strikes Back, a long camouflage duster in Return of the Jedi, and a brown leather jacket in The Force Awakens. So what will the younger Han Solo (Alden Ehrenreich) wear in the new movie?
According to concept art posted on Star Wars News Net on May 11, Han's outfit might not be the 1977 vest but instead more reminiscent of the jacket he wore for most of The Empire Strikes Back. Because Han isn't really the kind of guy to buy a lot of new clothes, it's also conceivable that this is the exact same jacket he wears a decade or so later. This leaked concept art showed up on Ebay, so its validity is still uncertain, though some sketches of different speeders (or spacecraft) carry the "Red Cup" watermark; the in-production title of the movie.
The concept art also shows what looks like a new Imperial landing craft, complete with Stormtroopers. There's also another vehicle which looks like a landspeeder of some kind, but outfitted with engines that are very reminiscent of a podracer from The Phantom Menace. Could Han Solo be heading to Tatooine and betting on a podrace?
Finally, in a recent snap posted on Woody Harrelson's instagram, actor Alden Ehrenreich can clearly be seen rocking what can only be described as a haircut cloned directly from Harrison Ford circa 1976-1977. No word yet if Han will also drink white wine.
The Han Solo movie is out in wide release on May 25, 2018.
See also: Don't Get Used to Yearly Star Wars Movies Just Yet