Inside 'The Leftovers' Insane Lion Orgy With Christopher Eccleston
The 'Leftovers' and 'Doctor Who' actor talks lion orgies and God.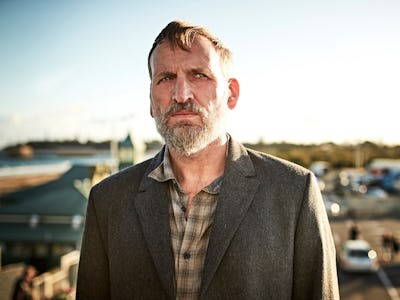 HBO 
Christopher Eccleston has done his share of acting in space. He's played characters ranging from Doctor Who's 9th doctor to Thor: The Dark World's villain. But the final season of The Leftovers places him in his most otherworldly setting yet: a lion orgy.
Eccleston's character Matt Jamison is no stranger to odd situations with naked people. The second season of the existential HBO drama saw him removing his clothes to be pilloried in front of a crowd. But the fifth episode of Season 3, "It's a Matt, Matt, Matt, Matt World," turns up the dial on the madness. In it, while embarking on a supposedly holy mission to Australia, Matt must take a detour on a cruise ship populated by a sex cult of humans dressed like lions, a live lion, and a man named God.
The Leftovers centers around a world in which two percent of the world's population has mysteriously disappeared. The characters left behind have varying responses, from joining nihilistic cults, to seeing dead people, to embracing religion. Through all three seasons of Damon Lindelof's existential drama, Matt has been hardheaded and dogmatic.
Eccleston speaks with Inverse about lion orgies, the dangers of religious fundamentalism, President Donald Trump, and more. He also promised to return to Doctor Who for its 100th anniversary.
Let's talk lion orgies. What was it like to film those scenes?
Very inspiring. The cast and crew all applauded the supporting artists on that day because they were all naked for very long, and they were all very cold — and their energy just got bigger and better every time. That episode simply would not have worked without their commitment. I just said to everybody on the set, "Let's just look each other in the eye the whole time."
A lot of continuity photographs had to be taken — the Reverend Matt appeared photo bombing in the back of a lot of them. They're not the kind of pictures that he'd put up on the congregation noticeboard.
It's interesting that everyone was naked and you were clothed, whereas Season 2's "No Room at the Inn" presented the opposite scenario.
I liked my costume a lot more in this scenario. I had empathy for all those supporting artists because I've been there, as the stocks will testify. They had my sympathy, my admiration, and in some of the guys' cases, my envy.
What do you think it is about Matt as a character that lends itself to these storylines involving nudity in absurd circumstances?
Well he's a prude, isn't he? He's prudish. People who set themselves up as models of propriety need to be exposed to nudity as often as possible. What's the Bob Dylan line, 'Sometimes even the president of the United States has to go naked?' I certainly wouldn't want to see your President of the United States naked. Do you think that carpet matches the curtains? You know the wig — do you think his wig's everywhere?
Oh God, I don't want to think about that.
Matt is a religious maniac, and their deepest fear is freedom, and love, and beauty and sex. So they need to have their faces rubbed in it as often as possible, as far as I'm concerned.
The orgy scenes weren't even the most extreme aspects of this episode. You also had to perform next to a live lion. That lion was real, right?
Yes it was. Absolutely real. There was one moment during the take when the lion woke up and roared, and I jumped six inches in the air. It was a primal response on my part. I was terrified, because it had been really sleepy, and then suddenly it decided it was hungry, and I was the burger it wanted. It scared the shit out of me. Hopefully we used that take; it was pretty electrifying.
Was that more challenging as an actor than the orgy scene?
Yeah, give me an orgy over a hungry lion anytime. Actually the most challenging moment was the moment of Matt's pivot in thinking. In the scene with William Camp and the lion, when Matt basically, his entire life had been a lie or a mistake. To try and actually capture that was the hardest thing.
As the show comes to a close, what part of Matt's journey had been the most rewarding for you to play?
His journey with himself. To play a character who absolutely, vehemently, is a religious maniac, and then ceases to be one. That was very satisfying, because as you and I know, we are at the whim of religious maniacs in this world. I wish every one of them would have a similar journey to Matt. Realize that they and their thinking is complete nonsense.
The third and final season of The Leftovers is currently airing on HBO.