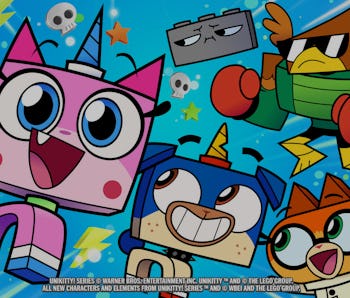 Entertainment
Unikitty From 'The Lego Movie' is Getting a Cartoon Network Show
"You need to be more friendly!"
Warner Bros. Entertainment, The Lego Group
After her breakout popularity in 2014's The Lego Movie, Unikitty is getting her own television show from Warner Bros. and Cartoon Network. As ruler of her kingdom, Unikitty is a busy lady (who is also a kitty and a unicorn), as she's constantly looking to make sure she and her friends always have the best and most creative day ever. The upcoming show is appropriately titled Unikitty!
Unikitty, the magical hybrid from The Lego Movie who might as well have had a diet of glitter, rainbows, and candy, will star in her own animated television show alongside a cast of equally eccentric characters. According to Cartoon Network, joining her in her kingdom and on various adventures will be her little brother and best friend Puppycorn, the Kingdom's go-to scientist, Dr. Fox, and Unikitty's trusty bodyguard, Hawkodile.
As seen in the original movie, Unikitty is a ray of sunshine with an alarmingly short fuse. Sure, she's a lovely friend to have around until something goes wrong and she blows up, throwing a tantrum and reeking havoc on anyone in her way. Given her dark side, Unikitty! doesn't seem like it's going to be all sunshine and bubblegum. Just mostly.
Cartoon Network's release doesn't mention if Unikitty will visit other Lego worlds, though chances are the show will presumably stay within the confines of her kingdom.
Unikitty! doesn't have a release date yet.