Elon Musk Just Announced Tesla Solar Glass Roof Pre-Orders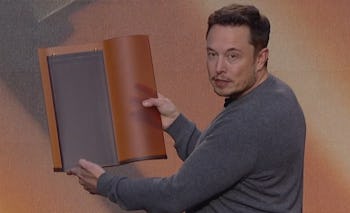 Tesla
The wait is nearly over. Tesla CEO Elon Musk announced Wednesday that the company will open up pre-orders for its solar glass roof in the afternoon, promising more details at 2 p.m. Eastern. The panels will provide homes with a method of capturing solar energy by using roof tiles that blend in with the existing structure.
The roof was first revealed as a SolarCity project in August last year. Since then, the company has merged with Tesla in a move that brings Musk's two renewable energy-focused ventures under one roof.
The panels, which will be available for ordering to "almost any country," will be deployed this year in the United States. Unfortunately, the rest of the world will have to wait until next year to get their hands on the tiles.
Tesla is undertaking a staggered launch for the tiles. The first available sets will be in black glass, both smooth and textured. Tuscan and French slate designs will arrive around six months later.
These aren't just regular solar panels. Covered in a "Tesla Glass" that may surface on the Model 3, Tesla has specifically designed them to be super strong. They're more durable than traditional roof tiles:
The tiles are also capable of defrosting themselves, using a similar technique to the anti-ice wires used in car windshields.
Musk demonstrated the panels at an October event where he memorably said, "check out the sweet roof," arguably the highest compliment a roof has ever received.
The solar panels would feed energy into a Powerpack, so when the sun sets the home is still powered by a renewable energy source. A Tesla Model 3, in the garage, charges off the Powerpack, ready to face the day.
Musk, who claimed the panels would cost less than a regular roof, explained why the company chose to make roof tiles:
The key is really to make solar something desirable, where if you install a solar roof on your house, you want to put it on the most prominent part of the house. You want to call your neighbors over and say, 'Check out the sweet roof.' It's like, not a phrase that you hear often, but that's the key to it. People really care about their homes; they love their homes and they want them to be better. And I think taking this approach, it can be. So that's where we're headed and I hope you agree, that's the future we want.
Unfortunately, those looking to kit out their roof as soon as possible may find themselves waiting. Musk already announced an April release back in March, only to miss the deadline.