Rob Thomas Explains the "Hot Mess" 'iZombie' Meal
The 'iZombie' showrunner tells Inverse how he keeps Liv's brainfood looking more cute and less creepy.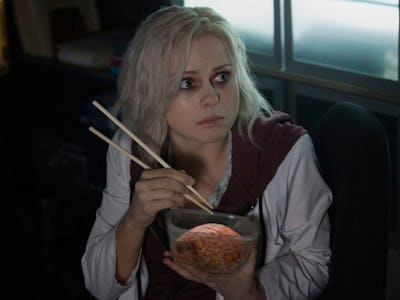 The CW
On this week's iZombie, Liv continues her recent pattern of freaking out Clive by eating "hot mess" brain and chugging vodka on the job. When speaking with Inverse, showrunner Rob Thomas cited this episode, "Some Like It Hot Mess", as a great example of the work his "zom-com-rom-dram" does to make its brains look more cute than scary.
When Liv realizes the murder victim of the week was a raging alcoholic who drove everyone around her insane, she doesn't put much effort into making a meal out of the girl's brains. "She tosses everything, all the leftovers, from the fridge into one bowl," Thomas says. "All of the brain-meals in the show tend to have a little joke in there, and that's what keeps the whole thing light. A wink," he adds.
Expanding on that, Thomas adds that Liv made "clams casino" in order to eat gambler brain. The jokey brain-food pattern began "at the top of Season 2," he says. "The writers tend to put together just a bit about each meal, but it's really a fun chance for all of our directors to put together a few quick shots of something clever. Zazz it up."
Though Rose McIver's "hot mess" impression makes it pretty difficult to watch her — she's great, smacking Clive's hand with little kitten-hands to cheer him up — she has a nice moment with Robert Buckley's Major. They kiss briefly, and it's ruined when Liv pronounces their moment "like, such a moment" before waltzing out of the apartment. Later, we see Major board a bus, his memory slipping away slowly due to Ravi's cure.
Of course, we know Major's zombie experience is far from over. Thomas says, "Major's storyline with the zombie military is what we based all of Season 3 on. All of our characters have been introduced to a literal army of zombies, who have said, 'When humans find out about us, we're going to go down swinging. We're not going gently into that good night, and we don't believe they will treat us as their friends. We'll just be zombies.' The show asks: What do each of our characters believe?"
Thankfully, Liv ditches the "hot mess" routine before this week's big events unfold: Ravi tells Peyton he believes Blaine is lying about his memory loss, and when Peyton relays the information to Blaine, he finally admits to the ruse. This means Peyton's heart is broken, of course, but it also means Major is on his way to being human again, having taken the cure already. When the whole crew realizes Ravi's cure is the real deal, Ravi turns to our hero and asks, "Liv, are you ready to be human again?" She beams, no longer hot-mess-brain-Liv but regular ol' undead Olivia, but it's difficult to feel excited for her. After all, iZombie is a show about Liv Moore's life in crisis.
When the zombie-gang gets back to the morgue, Liv's path to humanity has been unsurprisingly cut short — Ravi's cure syringes are missing. Meanwhile, Blaine is back to his old, evil tricks (with a rockin' soundtrack), and Major and Liv seem very comfortable kissing again. All in all, the drama is ramping up toward what Rob Thomas believes will be "Blackwater, but made of zombies."
iZombie airs Tuesdays at 9 p.m. on The CW.