Tom Holland's Lip Sync Battle is Winning Over Spider-Man Haters
Everyone just needs to see this for themselves.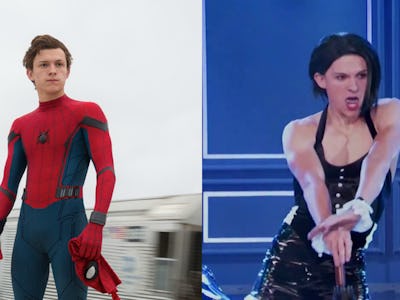 Marvel Entertainment, MTV
After two other on-screen iterations of Peter Parker's Spider-Man, some fans of Marvel's web-slinger couldn't believe there was another Spidey on the way in Spider-Man: Homecoming. The person Marvel cast as the MCU's new Spider-Man, a relatively unknown 20-year-old British kid named Tom Holland, was met with raised eyebrows, shaking heads, and general confusion. Even after a, frankly, charming performance in Captain America: Civil War, long-time fans of NYC's friendly neighborhood Spider-Man were still suspicious. Others had no clue who this Tom Holland person was. But, Holland's performance on Sunday's Lip Sync Battle put concerns and anonymity aside. Or, at least, it damn well should've.
For those not in the know, Lip Sync Battle is a lip syncing competition on Spike that originated as the brainchild of The Office's John Krasinski and writer Stephen Merchant. After it gained popularity on The Tonight Show Starring Jimmy Fallon, Spike picked the concept up and now puts celebrities head-to-head every week, each celebrity getting to "perform" two songs with choreographed dance numbers. And, on Sunday, Holland went up against his Homecoming co-star Zendaya.
Zendaya kicked things off with a rendition of Erykah Badu's "Tyrone," which Holland followed up with Nelly's "Ride Wit Me." As her choreographed number, Zendaya chose "24K Magic," dressing up as Bruno Mars. As impressive as that was, Zendaya was no match for Holland's "Singin' in the Rain"-turned drag recreation of Rihanna's "Umbrella," which is a thing that happened on television.
Spider-Man dressed in drag and faithfully recreated one of Riri's classic hits, serving face with contoured cheekbones, lipstick, and a wig while rocking fishnet tights.
The internet was, appropriately, shook en masse. Holland rocketed from that unknown kid playing Spider-Man to Tom Holland, the dude who dressed in drag and killed a Rihanna classic.
And as surprised as some people were, declaring their newfound love for Marvel's latest web-slinger, even more people were amazed, blown away, and happy to point out Holland's willingness to break gender roles. How often do conventionally masculine superheroes dress in drag and genuinely recreate a traditionally female performance without mocking it or turning it into a bit?
Spider-Man: Homecoming hits theaters on July 7.