'Pirates' Pulls a 'Lord of the Rings' in New Trailer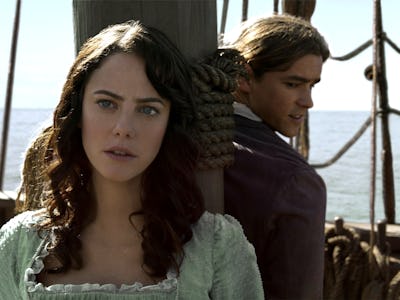 Walt Disney Studios
Much like Captain Jack Sparrow once told a man he'd never heard of the Black Pearl, this time he's supposedly never heard of "the treasure to be found, the map no man can read." It's a map that leads to the Trident of Poseidon, and, luckily, not everyone in Pirates of the Caribbean: Dead Men Tell No Tales is a man.
Kaya Scodelario (The Maze Runner, Skins) plays Carina Smyth in the upcoming fifth installment of Disney's Pirates franchise. Carina, obviously the love interest for Brenton Thwaites's Henry Turner, has supposedly risked her life to track down the Trident. She claims in the new trailer that she'll "die before I give up this search."
Her declaration is paired with an image of Carina holding what looks to be a red pendant of some sort. It glows, casting a sheer red light that will probably act as a sort of compass to lead the trio of Carina, Jack, and Henry to the treasure. Early on in the trailer, Carina is seen scratching coordinates and complicated mathematical problems into a wall. This prompts the question of what Carina's background is and just what she's doing with Jack and Henry.
"The map has never been seen by any man," Henry warns, to which Carina smiles and says, "Luckily, I'm a woman," totally pulling an Eowyn in Lord of the Rings: Return of the King. Now, all Carina has to do is kill the Witch-king of Angmar.
Pirates of the Caribbean: Dead Men Tell No Tales premieres in theaters May 26.