New 'Pirates of the Caribbean' Totally Stars Will Turner's Son
The Turner family just can't get rid of Captain Jack Sparrow.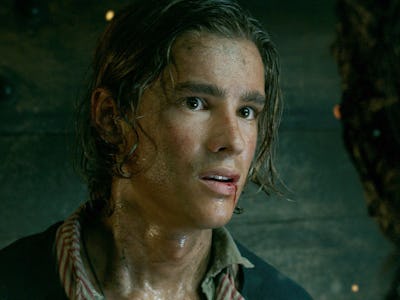 Walt Disney Studios
Yes, Brenton Thwaites's character in the upcoming fifth installment in Disney's Pirates franchise, Pirates of the Caribbean: Dead Men Tell No Tales, is absolutely Will Turner's son. Walt Disney Studios posted a video to its Facebook page on Tuesday that labels Thwaites's character — previously only known as "Henry" — as being "Henry Turner," which undoubtedly makes him related to Orlando Bloom's Will.
This sneaky reveal on Disney's part also confirms that Henry, previously described as "a headstrong young sailor in the Royal Navy," is most likely Elizabeth Turner's (Keira Knightley) son as well. Last time anyone saw Elizabeth, she was standing on a precipice and watching Will's ship, the Flying Dutchman, appear over the horizon after a ten-year absence due to that pesky curse. The scene, which closed out the franchise's third film, Pirates of the Caribbean: At World's End, revealed that Elizabeth, Queen of the pirates, now has a ten-year-old son, Will's son.
That son, little William Henry Turner III, will be the Turner that butts heads with Captain Jack Sparrow this time around in Dead Men Tell No Tales. He's been tasked by the vengeful Captain Salazar (Javier Bardem) with finding Jack because, apparently, the Turner family will never be rid of the good Captain Jack.
While Bloom is expected to return for at least a small cameo as Will Turner, there's no word yet on whether or not Knightley will make an appearance, although a cameo seems all the more likely given this new bit of information about her character's son.
Pirates of the Caribbean: Dead Men Tell No Tales premieres in theaters May 26, 2017.