Peter's Friend Learns He's Spider-Man in New 'Homecoming' Clip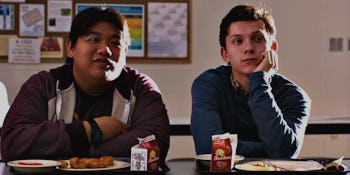 'Spider-Man: Homecoming'
Peter Parker's getting even worse at hiding his secret identity at the web-crawling Spider-Man in the latest clip from Spider-Man: Homecoming. It's totally believable that Tony Stark's endless wealth and resources would make it easy to discover Spider-Man's true identity in Captain America: Civil War, but if even Peter's buddy Ned (Jacob Batalon) can accidentally uncover the truth, then maybe Peter should be a little more careful.
The clip, which came out during the MTV Movie and TV Awards on Sunday night, features Peter returning home after a long night of crime fighting. After gingerly opening and closing the window to then crawl across the ceiling and tug the door to his bedroom shut with his web-shooters, he drops to the floor with a sigh of relief — only to realize that Ned was sitting on his bed the whole time.
Ned's response is about as shellshocked as you might expect. "You're the Spider-Man from YouTube!" is the best he can manage. Peter, meanwhile, fibs that he's basically an Avenger and pleads with Ned to keep his secret identity a, well, secret. Ned's pretty sure he can't, which might not bode well for the web-slinger.
Check out the clip here:
Spider-Man: Homecoming swings into theaters on July 7, 2017.