New 'It' Trailer Focuses on the Poor Kids That It Preys On 
The main characters of Stephen King's massive story are kids, and the second trailer focuses on them.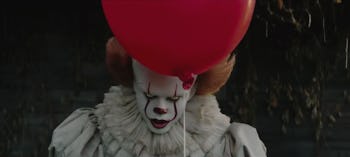 Stephen King's It is a massive, massive book that takes place across two time periods. Readers watch a group of friends take on It, a.k.a. Pennywise the Dancing Clown, as kids and then, decades later, as adults. The movie, due out this fall, will just focus on the kids' storyline, and the second trailer for the film showcases their childhood banter — and offers a terrifying new view of the demonic clown.
The trailer, which premiered on Sunday night during the MTV Movie awards, is less moody than the eerie first trailer. After some opening shots and a voiceover that shows how dangerous the fictional town of Derry, Maine, is for kids, we're treated to what's essentially a full scene. Several members of the Losers' Club, the group of friends who come face to face with It, explore the sewers while investigating the horrible mystery that haunts their town. It's not that scary a scene. If anything, it's funny, in the sense that it's a bunch of kids giving one another shit since they're good friends.
But, then there's a balloon. And while this trailer isn't as scary as the first one, that balloon is really, really creepy. As if that weren't enough, there's another much more complete shot of Pennywise behind an inverted triangle of balloons right before the trailer ends. I'm not totally sold on the new Pennywise design quite yet, but I certainly don't like the look of this creepy clown.
It hits theaters on September 8.