The 'It' Remake Will Stick to Stephen King's Horror Novel
And terrify everyone forever.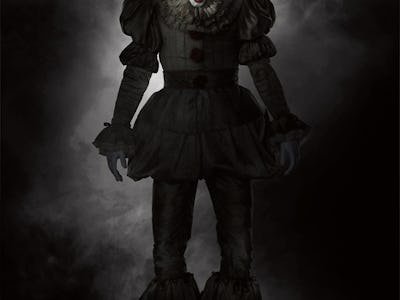 Today, Entertainment Weekly debuted the first full look at Pennywise in the forthcoming It remake. The villain (Bill Skarsgård of Hemlock Grove) is decidedly more antiquated-looking than Tim Curry's Pennywise in the original mini-series, and the costumer Janie Bryant says the mixing of Medieval and Elizabethan aesthetics is meant to suggest that Pennywise is merely the chosen avatar for an ancient evil – one that chooses its appearance depending on its victim.
The full costume, pulled in at the waist and elongating the clown's limbs, is constructed to make Skarsgård appear humanoid rather than human, and that, of course, comes straight from Stephen King's novel. "George saw the clown's face change," King wrote of Pennywise. "What he saw then was terrible enough to make his worst imaginings of the thing in the cellar look like sweet dreams; what he saw destroyed his sanity in one clawing stroke."
Judging by Pennywise's costume, the It remake, directed by Andrés Muschietti, will lean more heavily on King's text than the mini-series did, using the clown image as a hastily-slapped-together human costume rather than a permanent form for the film's monster. As fans will remember, the "it" in It changes form throughout the novel, notably (and controversially) into a giant spider during the story's climax. Inverse confirmed with Ted Ross from It's special effects department that a great deal of effort is being put into practical effects on the film, which means Muschietti and his crew are dead-set on making It an homage to classic horror in more ways than one.
Across the board, the film is shaping up to be a thrill for Stephen King fans, and those who enjoy throwback-style horror that doesn't lean too heavily on CGI. We won't know for sure, however, until September of next year, when the film premieres.