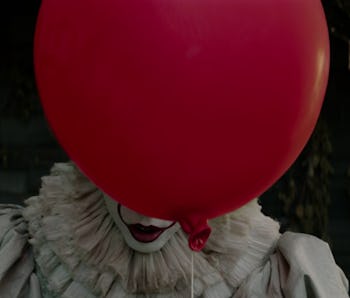 Entertainment
Watch the Horrifying First Trailer for Stephen King's 'It'
The terrifying clown who preys on children in Stephen King's It is, quite literally, horror personified. So it's fitting, then, that the first trailer for the upcoming big screen adaptation of King's lengthy novel is chilling.
The trailer, like the book, opens with 6-year-old George Denbrough chasing after a paper boat that his brother Bill made for him. When it's swept into a storm drain, we see a menacing flash and hear a promise that "everything floats down here." From there, the trailer goes on to hint at the town of Derry's sordid backstory and shows brief, creepy glimpses of Pennywise, though we don't see the whole clown just yet. It's all very ominous.
Since King's 1986 novel is massive and spans two time periods, the film adaptation is being split into two movies. The first, as seen in the trailer below, focuses on the seven members of the Losers' Club when they were all children, and It terrorized them for the first time. Part 2, which doesn't have a release date yet, will revisit the characters as adults when It comes back with a vengeance.
This isn't the first time that It has been adapted. In 1990, It was turned into a mini-series starring Tim Curry as Pennywise. The early '90s TV budget maybe wasn't enough to fully encompass Pennywise's shapeshifting brand of horror, but Curry's terrifying and somewhat campy performance holds up. We'll see if Bill Skarsgård's portrayal of Pennywise measures up when It hits theaters on September 8, 2017.